Officials on the Iberian Peninsula are leading Europe's charge in the fight against global warming and are pulling out all the stops to get people to save water in a region increasingly under threat.
The desert is on the march in Spain. Around 6 percent of the Iberian Peninsula has been lost to the wilderness forever, and a third of all arable land is seriously threatened. One of the worst affected regions is the southern Spanish province of Malaga, which is losing two centimeters (almost one inch) of valuable land every year. What is happening in Malaga could be the fate of much of Spain and other parts of southern Europe if desertification is not arrested.
As complicated as the consequences may be, the cause is really quite simple, according to Jose Luis Rubio, president of the European Society for Soil Conservation: The problem is not taken seriously enough.

"Soil is a living entity," said Rubio. "It is the earth's skin and is very sensitive to temperature changes or lack of moisture."
Dry periods and rain leads to erosion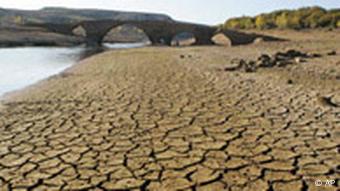 Intense sun and torrential rain destroys the Spanish soil
The environment is finding it ever more difficult to recover from the effects of long dry periods and devastating forest fires. And when it does actually rain, the water washes away the last nutrients from the soil and erosion becomes almost unstoppable.
But the desertification is not just down to climate change. Southern Spain provides the European market with millions of tons of fruit and vegetables and that makes the land ever thirstier.
The World Wildlife Fund estimates that 115 liters (over 30 gallons) of water are used to produce just two pounds (nearly one kilo) of strawberries. But the president of a fruit cooperative in the Murcia region, Jose Marin Hortelano, feels it is small price to pay.

"I believe that people must be calling this the 'Garden of Europe' for a reason," said Hortelano. "It's because of our products and climate. Our peaches are famous in all Europe -- because of their quality."
Water in Spain stands for rural development -- something which is vital to everyone. Despite the fact that paving the land destroys valuable soil, hotels continue to spring up everywhere along the east coast.
Ecologists warn against making a fast buck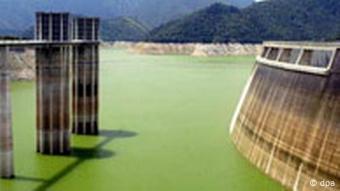 Irrigation for farming is having a dramatic effect
Alberto Fernandez from the World Wildlife Fund warns against just thinking about a quick profit.

"We are losing natural treasures," said Fernandez. "We're losing the ability to make good agricultural products and we are severely damaging water quality."
The Spanish government has developed a plan to examine the affected areas and search for solutions. And they don't need to be too complicated, according to Ramon Vallejo from the Center for Environment Studies in the Mediterranean.

"The aim is to halt erosion," Vallejo said. "For example we are planting bushes native to the area which hold the soil together and protect them with modern technology."