Protests continued in Spain on Saturday, May 21, despite a government ban ahead of local elections on Sunday. Thousands gathered in city centers around the country and sit-in protests were staged in more than 30 cities, with some protesters vowing they would not move if police intervened.
Protesters in the capital Madrid, where an estimated 19,000 people participated in the demonstrations, chanted "now we are illegal" and "the people united will never be defeated" as the ban officially took effect.
Spanish Prime Minister Jose Luis Rodriguez Zapatero told a major radio station on Friday that he sympathized with protesters voicing their dissatisfaction ahead of Sunday's elections.
He stopped short, however, of elaborating on whether police would enforce a ban on protests on the eve of the vote, imposed late on Thursday by the national electoral commission. The one-day ban is supposed to permit a pre-election "reflection day."
"I have a great respect for the people protesting; they are doing so in a peaceful manner, and I understand it is driven by the economic crisis and young people's hopes for employment," Zapatero said in an interview with the Cadena Ser radio station.
Weighing one's options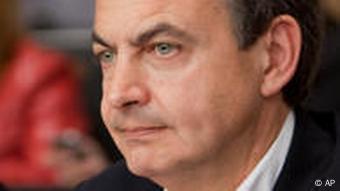 Spain's prime minister is between a rock and a hard place
When asked directly whether police would enforce the one-day ban on public demonstrations, Zapatero said the government was considering its options and would watch events unfold before deciding.
"In any case, we should not get ahead of ourselves. What we can say is that, as I think has been the case up until now, the Interior Ministry will act well, correctly and with intelligence," said Zapatero.
Later, Spain's Interior Minister Alfredo Perez Rubalcaba said police "will enforce the law" against protesters but in a "proportional manner."
"Police will take decisions according to developments," he said during a news conference following a cabinet meeting.
Zapatero's ruling Socialists were already under the gun going into the vote, but the prospect of police and protesters clashing on election eve - effectively on the Socialists' watch - could cost the prime minister's party even more votes.
Protesters unfazed
The primarily young demonstrators had already pledged not to back down, regardless of the official ban. They are rallying against a combination of biting budget cuts designed to control Spain's deficit and a whopping 21.3 percent unemployment rate - the highest in the European Union. Among young people, the joblessness rate is over 40 percent.
Many protesters are also calling for reforms to Spain's two-party system and a shake-up of the country's political culture. Thousands have camped out in tents or under the stars at Madrid's central Puerta del Sol square, saying they would not budge until election day.
"When police approached, we told them our claims concerned them too, because they too had low salaries and mortgages they were struggling to pay," said Carlos Paredes, a spokesman for the movement.
Dubbed "the indignant" by some, the protesters also say they are planning a "silent cry," during which demonstrators will tape their mouths shut in a sign of protest once the proposed ban comes into force at midnight. The group is also becoming more commonly associated with the name M-15, a reference to May 15, when tens of thousands hit the streets in over 50 Spanish towns and cities.
The movement appeared on the Internet a few months ago in response to Spain's deepening economic woes. The group sides with no political party, though it is not calling for voters to abstain or spoil their ballots either. The government is asking them to express their discontent at the ballot box, not on the streets.

"Don't vote for them," the group implores. And by "them," they mean every political party
European pressure
Analyst Lothar Witte, who works with the Friedrich Ebert Institute in Madrid, said Spain was currently witnessing the initial stages of change in its political system.
"A move away from the two-party system and the emergence of new social movements. This is forcing the parties to present themselves where possible in a different light before the electorate," Witte told Deutsche Welle.
"I often get the feeling that Spain is at about the same place we were at in Germany in the mid 1970s - the first major economic crisis, a great disbelief and the emergence of new forms of political organization."
Spaniards are voting for over 8,000 city councils and 13 of 17 regional governments on Sunday, with the opposition conservatives heavily fancied to profit from public dissatisfaction with Zapatero's government and Spain's economic problems.
"Behind this lies a great frustration over the end of a long economic boom period," said Witte. The anger on the streets, he said, was mostly directed at politicians who they blame for rapidly deteriorating work conditions, for those lucky enough to have work. Witte said the Spanish leadership has only just put its finger on the pulse of the nation's economic and social condition.
"I arrived in Spain two years ago when the boom was coming to an end, but you got the feeling the fiesta was still going. Zapatero has unfortunately almost been denying the very existence of a crisis for quite a while," he said.
Cuts continue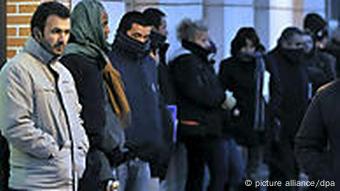 Spain's unemployment rate is the EU's highest
But despite the unpopularity of government cutbacks, the prime minister said Spain would have to continue with its austerity measures to meet international obligations.
"I can guarantee there will be no more spending cuts after the May 22 elections [but] we are committed to the budget target. I insist we will meet this obligation because, if we don't, markets and investors won't finance us, and that would make things worse," said Zapatero.
Spain remains under intense market scrutiny since Greece, Ireland and neighboring Portugal were all forced to accept emergency loans from the EU and the International Monetary Fund. Were Spain to need assistance - considering the comparative size of the countries involved - it would most likely be the most costly rescue package so far.
Authors: Charlotte Chelsom-Pill, Darren Mara (AFP, dpa, Reuters)
Editor: Martin Kuebler