South Sudan descended into war in December 2013 when President Salva Kiir accused his previous deputy Riek Machar of planning a coup, setting off a cycle of killings that split the country along ethnic lines.
The hopes to bring the country back to normalcy waned a month ago after Riek Machar's delegation failed to turn-up for peace negotiations.
South Sudan's government warned that inviting a large number of armed opposition to the capital, Juba, for the negotiatons, would be a security risk, preferring a smaller delegation.
The spokesman for President Salva Kiir, Ateny Wek Ateny, said the power sharing will never see the light of day, blaming the rebels for sending a delegation of 600 people to Juba.
"Signing a peace agreement is not enough, it will never materialize unless it is implemented by both sides, and the implementation is not a one-way traffic." Ateny told DW.

Warring parties to blame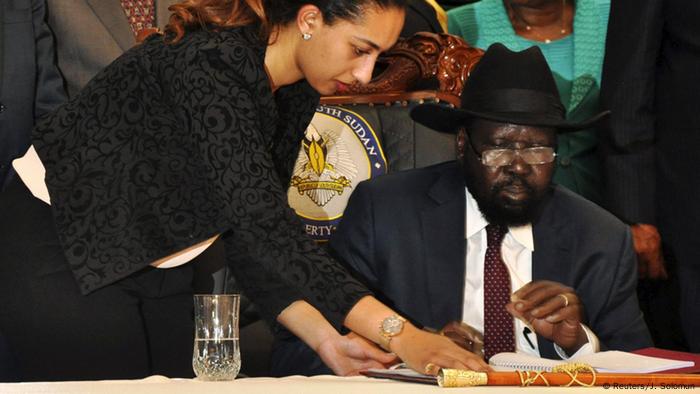 President Salva Kiir signs peace deal with his former vice president Riek Machar

Under the internationally-brokered peace deal reached after months of negotiations, South Sudan now has a transitional government, headed by President Salva Kiir, and a complex power-sharing formula in which rebels get a share of seats at national and state levels. The deal was intended to end two years of civil war between Kiir and rebels led by Machar.
The conflict has been marked by ethnic killings, gang rapes and child soldier recruitment, claiming thousands of lives and driving some 2.2 million people from their homes.
There is a lack of trust and political will between the government and rebels, Annette Weber of the German Institute for International and Security Affairs (SWP) told DW in an interview.
"I would blame two sides [government and rebels] for not really following the responsibility they have for the population. It really feels like both sides are just trying to boost their own egos," she said, adding that nothing was really moving forward.
Humanitarian situation on deterioration
The United Nations (UN) is alarmed with the deteriorating humanitarian situation in South Sudan with seven million people lacking proper food.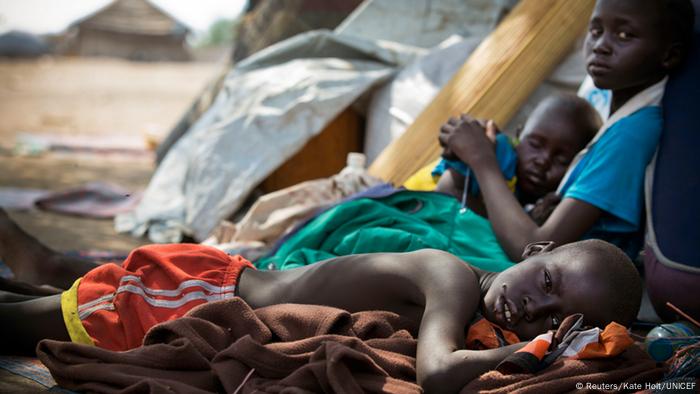 South Sudanese government says over three million are at risk of starvation

The South Sudanese government has denied the figures saying the UN was 'exaggerating' but admitted that at least three million people are facing a severe hunger.
The international community with South Sudan partners have mobilized $1.3 billion in assistance for humanitarian efforts this year. Partners have already assisted four million South Sudanese with food, water and shelter. However, according to FAO's acting humanitarian coordinator in South Sudan, Sue Lautze, the support has been a drop in the ocean, calling for more humanitarian aid to save the world's youngest nation.
"Unfortunately the support is not enough, the donor community has been quite generous, they provided $1.3 billion and that is 7percent only of what we actually need here." Lautze told DW.
"The population is still displaced, they have lost lots of assets and there's significant suffering," she added
The UN organizations plan to ask for another $1.3 billion of humanitarian assistance for 2016 and another $ 600 million in transition development assistance for next year.
"There's of course a tremendous pressure on donors around the world. The situation in South Sudan requires all of us to not forget the stability of this young nation and to its people to see them through this tough period," Lautze said.