Frankfurt prosecutors disclosed Wednesday that the body was found last Saturday and the five had been remanded in custody on murder changes.
The accused included a 44-year-old woman, her adult son and daughter, and two boys aged 15. One of those boys was a son of the dead victim.
The 41-year-old Korean woman had died while fettered to a bed in an Intercontinental hotel room after being beaten repeatedly on the chest over a two-hour period and then suffocated.
Her body was covered in bruises. She had been gagged with a towel and a cloth-covered coat hanger stuck into her mouth.
Leading state attorney Nadja Niesen said she had "not ever experienced everything like it," adding that investigators had described the suspects' behavior as "unfeeling and pitiless."
The 44-year-old suspect had spoken of an exorcism during police questioning, she said.
Circumstances unclear
It was unclear which religious group they belonged to, nor whether cult objects were found in the room, Niesen added.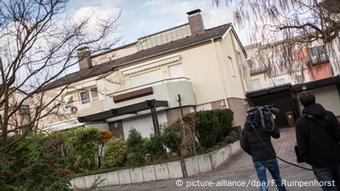 Cameramen film the house in Sulzbach outside Frankfurt
During questioning police also learned of a further victim. She was found dehydrated and under-cooled in a garage of a house rented but seldom used by the group in Sulzbach, a town in the Taunus hill region just north of Frankfurt.
A spokesman for the Intercontinental Hotels Group (IHG) confirmed there had been an incident but declined further comment.
The German news agency DPA said it was unclear who had found the dead victim.
ipj/jil (dpa, AFP)