Julius Malema, the leader of South Africa's Economic Freedom Fighters (EFF), on Saturday told a stadium packed with over 40,000 supporters that the party was not promoting violence, but would defend itself against state violence.
"You say we promote violence (but) we are the most peaceful organization … Anyone who comes with violence, we will defend ourselves. We are not scared of war," Malema said, according to the South African periodical "Mail and Guardian."
The comments by the former leader of the African National Congress' (ANC) youth league came after the ruling party last Monday opened a criminal case against Malema over remarks he made during an interview with the Doha-based al-Jazeera news network.
"Part of your revolutionary duty is to fight. And we are not ashamed if the need arises for us to take up arms and fight. We will fight," Malema told al-Jazeera . When asked to clarify his statement, he added: "I mean it literally … if they respond violently to our peaceful protest."
Malema referred to a government crackdown on protesters in the township of Alexandra following the 2014 general election, during which the army was sent in to quash the demonstrations in a rare show of force in South Africa.
"The ANC is led by clowns. That is why they confuse the truth with treason. You come with violence, we'll respond with violence," the EFF leader said.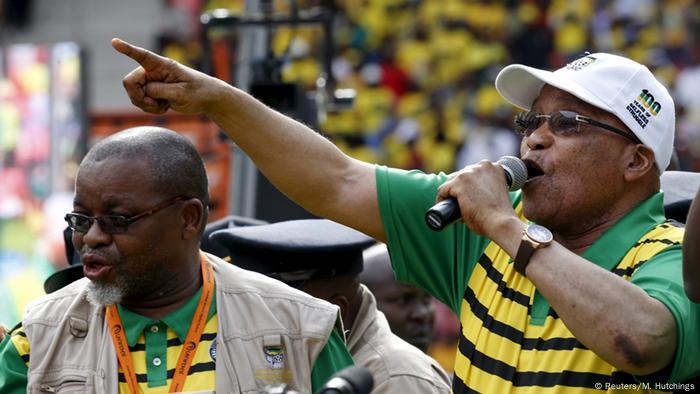 The ANC struggled to fill a stadium as the party's President Zuma remains embroiled by corruption allegations
Displays of power
The socialist leader did not solely defend his comments on violence. He also called for the Independent Electoral Commission (IEC) to operate with independence and impartiality following a 2015 Supreme Court ruling that elections in the Tlowke municipality were not "free and fair," according to local media.
"The IEC is the third party that is contesting the EFF," Malema told the rally.
Saturday's rally shed light on a significant shift in the display of power of South Africa's political parties, with the EFF's supporters filling the Orlando Stadium in Soweto - which fits approximately 45,000 people and has an overflow area outside the sports complex - to capacity.
Meanwhile, the ANC rally last week barely filled two-thirds of the stadium, showing the ruling party's struggle to shake off a weakening image in the wake of widespread corruption allegations and mass protests calling for its leader President Zuma to resign.
The EFF campaigns on a socialist platform of ending "the white-held monopoly on capital" and redistributing wealth, including greater land ownership rights for South Africa's black population. Malema, the party's leader, was expelled from the ANC in 2012.