Julius Malema, leader of the opposition Economic Freedom Fighters (EFF), filed court papers after failing to get an answer from President Jacob Zuma when he would refund some of the $24 million (22 million euros) in taxpayers' money critics say was squandered on renovating his rural homestead in Nkandla village.
Malema challenged Zuma over the issue in parliament during presidential question time on Thursday (06.08.2015). "It is very clear we will never get an answer, Mr President. Let's meet in court," Malema said.
Outside parliament, Malema told reporters "We are taking him to the Constitutional Court."
In March 2014, Thuli Madonsela, South Africa's ombudswoman, ruled that Zuma and his family had "benefited unduly" from the work carried out on his home. She recommended that Zuma pay back some of the money spent on renovations which included a swimming pool, an amphitheater and a cattle enclosure.
Support for Zuma over al-Bashir at the AU
The lavish spending has triggered anger in a country where poverty and inequality still persist 21 years after apartheid officially ended. Malema's EFF have disrupted previous sessions of parliament shouting "Pay back the money."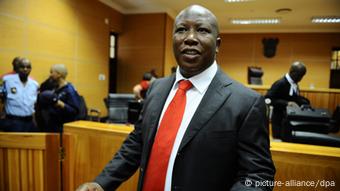 Julius Malema clashed with Zuma over Nkandla but backed him over al-Bashir
Zuma told parliament on Thursday Malema's question was "premature" because the assembly was still discussing the ombudswoman's recommendation.
But while Malema clashed swords with Zuma over Nkandla, he lent him support when parliament questioned the embattled president over the failure of the South African authorities to arrest Sudanese President Omar al-Bashir.
Bashir, who is accused of masterminding genocide during Sudan's Darfur conflict, was allowed to leave an African Union (AU) summit in South Africa in June and fly home in defiance of a local court ruling ordering his detention under a warrant from the International Criminal Court (ICC).
Mmusi Maimane, head of the opposition Democratic Alliance, called Bashir "a man wanted for genocide against Africans" and asked Zuma why he had not kept previous promises to enforce the warrant, an obligation which is binding for all ICC members.
Zuma told parliament Bashir would have been detained if he had visited South Africa as an individual rather than as a delegate to an AU summit.
Speaking in Zuma's defense, Malema said: "We are not going to agree to the arrest of an African leaders in South Africa to polarize Africa and make South Africa an enemy of the whole of Africa."
State of the ANC
Zuma's party, the African National Congress (ANC), has ruled South Africa since the end of the apartheid and critics - not just Julius Malema - wonder whether the Nklandla affair is not symptomatic of a broader ANC malaise. Andrew Feinstein, an ex-ANC member of parliament and now a critic of the party, told DW some people believe the president is an enormously powerful figure and therefore has great influence over the tenor of government overall. Their belief is that "Zuma's personality and his own corruption scandals, his own lack of engagement in government is really at the root of the problem."