Jalisco state Attorney General Eduardo Almaguer said local authorities have confirmed the identities of four of the six kidnapped individuals, among them 29-year-old Jesus Alfredo Guzman Salazar.
Authorities said seven gunmen arrived in pickup trucks at the upscale restaurant La Leche in the Pacific resort city of Puerto Vallarta at around 1 a.m. Monday and separated the men from the women before abducting a half-dozen victims.
The young Guzman is one of several sons who law enforcement officials say have been active in running the Sinaloa cartel. He was arrested in 2005 on money laundering charges - though released in 2008 for lack of evidence. He was indicted by the US government on drug trafficking charges in 2009 and placed on a list of suspected "kingpins" in 2012.
Escalation in deadly turf war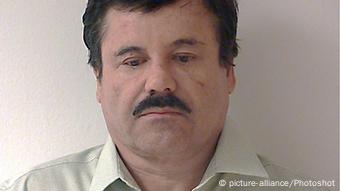 "El Chapo" purportedly ran affairs from prison until his second escape in 2015, but since being recaptured has been kept under stricter security measures and his apparent power is on the wane.
His father "El Chapo" is now in a maximum security federal prison in the northern city of Juarez after tunneling out of prison last year before being recaptured in January.
Most evidence points to the the kidnappers belonging to the state's dominant Jalisco New Generation drug cartel, while the victims were from the rival Sinaloa cartel, authorities said.
Jalisco New Generation cartel's power and reach have grown rapidly in recent years, often in direct competition with Guzman's cartel, which has long been considered the strongest criminal organization in Mexico.
"It could indicate an escalation," Samuel Logan, managing partner at the business and security consulting firm Southern Pulse, said of the kidnapping. "That's a pretty gutsy move."
Jalisco state Governor Aristoteles Sandoval said Monday that security had been tightened in the area and that local authorities were working to capture those responsible.
"What happened early this morning in Puerto Vallarta cannot be permitted or tolerated," he wrote on Twitter. "We will not allow them to rob us of our peace."
Puerto Vallarta, in the state of Jalisco, is one of Mexico's top vacation destinations, attracting budget tourists and high-end sun seekers to its famed sandy beaches.
jbh, jar/kl, se (AP, AFP, dpa)