The funicular suddenly comes to a halt midway. The snow heaps are simply too high. Men with snow shovels come running to clear the track again. They have been fighting against the masses of snow for hours and are trying to keep the path open for those staying at the Schatzalp hotel. Today, the funicular is the only way from the hotel to the venue of the World Economic Forum.
Working for the poorest
Anshu Gupta stands in the cabin and takes pictures with his mobile phone. His family back in Delhi will be amazed. This is the first time that Gupta is has attended the World Economic Forum. Together with 34 others, the social entrepreneur has been invited to Davos by the Schwab Foundation. Back in India, he is a successful social entrepreneur. His company's name is Goonj.
His topic is the poorest of the poor in India's villages, their needs in terms of water, infrastructure, education and work. Gupta runs his organization like a business. The reuse of textiles, for example, creates jobs. The objective is not profit but improved living conditions for the people without donations.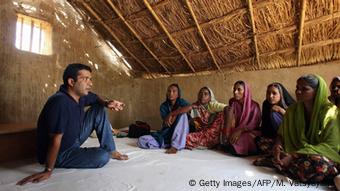 Goonj Founding Director Anshu Gupta speaking to village women in Rupaspur
"One should stop treating these people as beneficiaries and treating yourself as a donor. Treat these people as stakeholders," he demands and adds: "Our biggest challenge is changing the mindset."
Gupta is convinced: Jobs generate income and lead to increased self-confidence. At the World Economic Forum, he wants to talk to business leaders and politicians because he feels that the current business model is outdated.
What do you do with your trash?
Tracey Chambers couldn't agree more. The woman from South Africa is a proud social entrepreneur herself. Together with her partner Tracey Gilmore, she founded "The Clothing Bank," which has created hundreds of jobs in South Africa, especially for women.
The company collects seasonal clothing that large chains have discarded. Then women sort and, if necessary, repair them. Afterwards, numerous micro-entrepreneurs resell them, assuring their livelihoods that way. "The Clothing Bank" also offers training for women in the use of computers, accounting and many other areas.
At the World Economic Forum, Chambers wants to talk to the heads of large retail chains. "We will be asking them what they are doing with their waste because there is a lot of secrecy in the industry and a lot of CEOs don't even know what is happening to their waste. They are not necessarily taking responsibility for the end of the cycle."
Profit is secondary
What some consider trash, creates jobs for others and even helps protect the environment. Profit is only important as a way to make further investments in the company. Just a few years ago, Masa Kogure still worked for the consulting firm McKinsey & Company. The man from Japan earned a lot of money but was completely unhappy and eventually had a burnout. He saw little benefit to society in his work at the time. Today he works towards less food being wasted in Japan.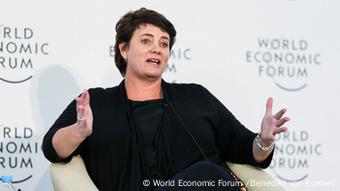 Tracey Chambers explaining her "Clothing Bank" project
"There are more and more consumers out there in the world who like to see a social message in a product and there is nowadays more and more collaboration between the social and the private sector and there is more focus on social enterprises," he says. That's why he is convinced that he will be able to use the World Economic Forum for his purposes. He wants to get in touch with company representatives and promote his ideas.
One thing he struggles with in Davos, however, is the cold. "In Japan, we don't have this much snow. That's because of climate change but the massive amounts of snow here, I didn't expect that," he says and laughs as he looks at his ice-covered boots.