The topic of this year's World Economic Forum (WEF) meeting in Davos is "Creating a shared future in a fractured world." The motto is in direct contrast to US President Donald Trump's "America first" policy which also involves large-scale protectionism and isolationist security policies.
"There is today a real danger of a collapse of our global systems," said WEF founder Klaus Schwab. "But change is not just happening — it's in our hands to improve the state of the world and that is what the World Economic Forum stands for."
"What we know is that what we lack is cooperation," the forum's president, Borge Brende, told reporters, adding that the gathering of 70 heads of state and government as well as key figures from the world of business may make a vital contribution toward overcoming current obstacles in global trade and elsewhere.
"We will practically have a European summit in Davos; we will have 40 heads of state and government coming from Europe and Eurasia," Brende said, noting that "all the Bretton Woods heads and UN Secretary General Antonio Guterres" would also attend the meeting starting Monday night.
Controversial debates expected
Donald Trump is still scheduled to address the Davos audience on Friday, the last day of the gathering. Since taking office a year ago, Trump has done little to support the globalization and regulatory integration philosophy so popular among the usual Davos crowd.
Two days earlier and hence not crossing paths with the US president, German Chancellor Angela Merkel is to give a speech on European affairs in Davos.
"Germany is, politically and economically, an important member of the European Union and very engaged in the political debate about Europe's future development," said German Government Spokesman Steffen Seibert. "That is why Angela Merkel has chosen to express her views on Europe at Davos."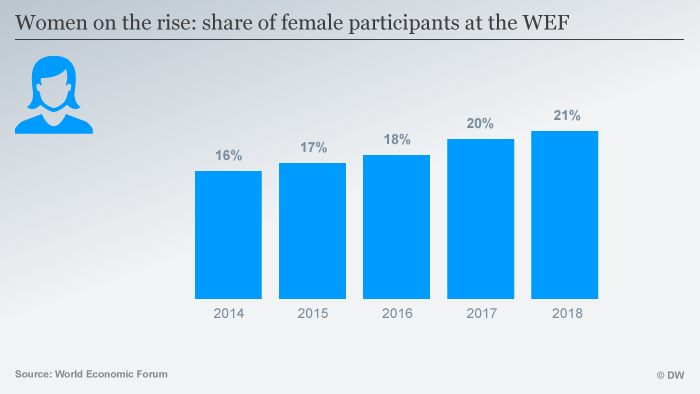 Merkel will speak the same day as French President Emmanuel Macron, who has proposed a raft of ambitious EU reforms.
In a new development, world leaders at Davos will be meeting under an all-female co-chair team, made up of IMF chief Christine Lagarde, Norwegian Prime Minister Erna Solberg and IBM's CEO Ginni Rometty.
The altogether seven female co-chairs had been announced in the face of criticism that the conference had in the past lacked female representation.
hg/jd (AFP, Reuters, dpa)