In a referendum held on Sunday in the Slovak town of Gabcikovo, almost 97 percent of those who voted said "No" to temporarily taking in 500 asylum seekers.
Officials in Gabcikovo, just south of the capital Bratislava, organized the referendum after more than 3,000 residents signed a petition opposing plans to shelter the asylum seekers temporarily in a university building in the town.
Some 2,600 of the town's 4,300 eligible voters took part, a turnout of 58.5 percent. Only 102 voted in favor of accepting the asylum seekers. The vote in opposition was overwhelming - 96.67 percent.
Agreement between neighbors
The interior ministers of both Slovakia and Austria had agreed in July that Vienna could send up to 500 people who had applied for asylum in Austria to Slovakia by the end of September. Slovak Interior Minister Robert Kalinak and his Austrian counterpart, Johanna Mikl-Leitner, had arranged that the asylum applications would still be processed in Austria and Vienna would cover personnel costs, but Slovakia would take on the accommodation costs.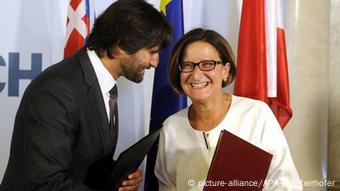 The interior ministers of Slovakia and Austria agreed in July to send 500 asylum seekers to Slovakia
Austrian authorities were seeking to relieve pressure on the overcrowded refugee arrival center in Traiskirchen, just south of Vienna, where in July some 1,200 people had to sleep outside because of a lack of space.
Sunday's referendum isn't binding for Slovak authorities, but it will now be clear to them that sending the asylum seekers to Gabcikovo is against the wishes of most of the town's population.
The issue of how to cope with the hundreds of thousands of people now seeking refuge in Europe - many fleeing conflict or poverty in the Middle East, Africa and some eastern European nations - is seen as a test for European solidarity.
Slovakia is not a favored destination for asylum seekers, with only 14 people granted asylum there last year. The country's Prime Minister Robert Fico has threatened a referendum if European Commission plans for a quota system to distribute refugees more evenly throughout the European Union are implemented.
Austria, which has a population of about 8.5 million, has reported 70,000 asylum seekers arriving in this year alone, compared with 28,000 last year. Authorities are struggling to cope with all the new arrivals.
se/gsw (AFP, dpa)