In Kamayama, a community in Freetown built on and around steep riverbanks, life looked like it was slowly getting back to normal. Two local football teams were battling it out on a dry mud pitch. A hundred spectators stood by, watching keenly.
But though this community appeared to be cheerfully getting on with life, many of those who live here are still traumatized by what happened three weeks ago. At around 6 a.m. on August 14, the top of Sugar Loaf Mountain collapsed on to the community below. Mud, rain water and debris went tumbling down the valley and crushed houses in the areas of Kaningo and Kamayama. Between 800 and 1,000 people are thought to have died and 7,000 were displaced. Bodies are still buried deep under the mud and debris.
Nightmares
At the football match, spectator Fesellie Eveh said he still thinks about that morning every day. A resident of Kamayama, he was at home with his mother, taking care of a sister who was ill. "When the rain came, we just heard a sound. People were screaming all around. When we went outside, we just saw something like an ocean, something that we've never seen in this area," Eveh told DW.
Eveh lived at the top of the mountain. He rushed out to help rescue people, but the masses of water wouldn't let him. "In a twinkle of an eye, we just started seeing bodies coming different ways – parts of people, not complete bodies, foot, hand, head. It was so terrible. We did not have quick help from the government. They came here in the evening. We, the youths from the area, tried to help on our own."
Eveh said that he lost many friends, including his best friend, Momoh. "We were on the same team, he was my team mate. That morning was so terrible; I never saw a disaster like that. I think about that every day in my life, every move I make. At night I dream that I am in the water," Eveh said.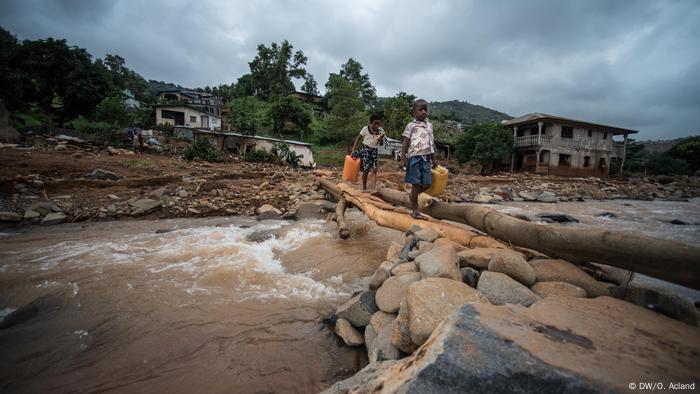 A makeshift bridge serves the community in Kamayama, Freetown
Traumatized children
Around the corner from the football game, a primary school acts as an improvised response center. Aid agencies use it as a base from which to distribute food. Displaced families were sleeping on the classroom floors. Outside the school community volunteer Brima Bangura was leading a group of children in a singing competition. Some of the children had lost their parents in the mudslide. "They have sad minds, they are not happy. So I decided to bring them together to see how they can be happy and make some fun with them so they will forget about the past, about what has happened with their parents," Bangura said.
A short walk down a stony mud track is the house of community chief Pa Kebbe. He was sitting under a tree, talking to Jariatu Marah.
Her house used to be at the bottom of the valley, beside the river. Her husband and two children died when a torrent of water surged into their home. Now Jariatu sleeps on the floor of Chief Kebbe's house, along with 25 others. She had a harrowing story to tell: "When I was there inside the water, I called for help. One man passed me a stick and told me to hold it. I held the stick and he drew me from the water. I drank the water by mistake and it was inside my belly. By the time I came out of the water I was unconscious."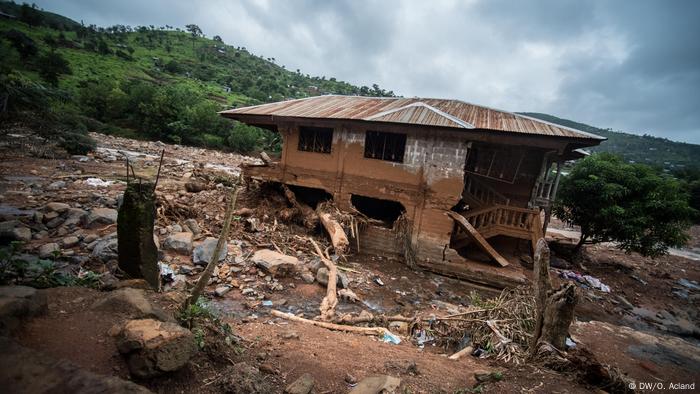 Many residents of Kamyama lost all they had
All lost
She was taken to the hospital where the water was pumped out of her stomach. "When I woke up in the morning, I started asking about my children. They said that two of them had died, along with my husband. Two were saved, Sheka Marah and Aminatta Marah." Her house was destroyed and she had nowhere to go, she told DW.
Like many others in the Kamayama community, Jariatu Marah still does not know what will happen next. She hopes the government will re-house her in a safer place. Like most people in Sierra Leone, she had kept all her savings in her house. All was lost. Now she has to rely on humanitarian aid and assistance from Chief Kebbe. Residents here have not forgotten that promises made by the authorities after the 2015 floods were never kept. Which is why they now feel very skeptical about the likelihood of getting any assistance soon.