This hasn't happened for a long time. In the first half of this year, the European car market grew considerably more than the Chinese car market, at 7 percent and 4 percent, respectively. However, if you consider the concentration of cars, this can only be a temporary problem. There are about 500 cars per 1,000 inhabitants in Germany and 171 in China. Car sales figures in China fell by 3.4 percent compared to the same period in the previous year. It's the first decline in over two years. Only 1.5 million cars were sold, according to the Chinese auto industry.
German car manufacturers have also taken a hit - but not a dramatic one. VW subsidiary Audi sold 274,000 cars in the first six months of the year, while BMW sold 230,000. It's Mercedes that came out top, selling 165,000 cars - an increase of 22 percent - in the first six months of the year. They're playing catch-up because they still have the weakest presence in China. Nonetheless, they're doing well. Still, Germans are going to have to get used to standing up and getting their food at the buffet rather than having their meals delivered on a silver platter. It's time for German manufacturers to do some serious thinking.
Germany's economy depends on Chinese drivers
Not only the car industry, but the whole of the German economy depends on the Chinese automobile market. Every third Volkswagen is made in China. Over the next four years, VW will be investing 22 billion euros ($23.9 billion) in China with its Chinese partners. It makes sense to think about the root cause of the crisis. The overheated Chinese stock exchange could be playing a role. Those who gambled away their money don't have any left for a new German status symbol and have to make do with a South Korean one.
However, this group is relatively small. Those who buy luxury German cars will not find themselves in dire straits financially just because they gambled and lost a bit. Moreover, in the 14 months when the market was exploding, there was no boom among in car sales.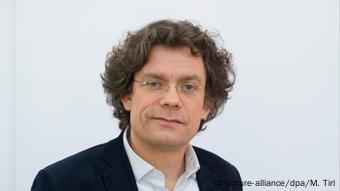 DW columnist Frank Sieren
A more important reason for the slump is the anti-corruption campaign, launched by Communist Party head and state leader Xi Jinping. Being seen in public in a luxury car is dangerous at the moment. The top-flight customers are being replaced by a striving, middle class. But that takes some time. And small and medium-sized enterprises have not yet been supported by Chinese banks.
Fighting corruption weakens car sales
The combination of a lack of businesses and the ongoing anti-corruption campaign is the main reason why last year a new car would spend 36 days at a dealership before being snatched up, whereas now it can be there for up to three months. In the past four weeks, there have been a third fewer customers looking for cars in China's dealerships. Car manufacturers have to find new ways to sell new cars: In the past few years, the distributors of a big German manufacturer would have to make 110 percent of planned sales before head office would grant discounts.
In June, this was adjusted to 85 percent. These days, almost no Chinese customer will buy a car unless there is at least a 15 percent discount. This will change again - all you have to do is look at the concentration of cars in China mentioned earlier. There is no reason why the best cars in the world should not see better sales, but when this will happen is hard to predict. Take note: China's car industry is not yet in need of a walker, it is simply streamlining.
DW columnist Frank Sieren has lived in Beijing for 20 years.