He was once considered Europe's most eligible bachelor. Now, Felipe can tack on a rather more serious title: King of Spain.
The abdication of his 76-year-old father, Juan Carlos, took experts by surprise.
"It's very hard for me to understand, surely the pope's example played a major role," royalty expert Rolf Seelmann-Eggebert said, referencing the surprise 2013 abdication of Pope Benedict XVI at age 86.
Spain's constitution, however, doesn't allow the throne to simply change hands overnight: Spain's cabinet first had to approve the legislation regarding Juan Carlos' abdication, after which parliamentarians in Madrid then agreed to his succession by Felipe VI.
Despite that unusual sequence of events, the change might have come at just the right time, with support for the Spanish monarchy waning dramatically in recent years.
Juan Carlos heaped plenty of criticism upon himself when, in the middle of a brutal economic crisis, he went on an elephant hunting safari in Botswana. A marital fidelity scandal also damaged the Spanish court, and all this while the former king's health was beginning to wane.
"I believe Juan Carlos chose the right time," Seelmann-Eggebert told DW. "He couldn't sink much further."
The 'best-prepared' king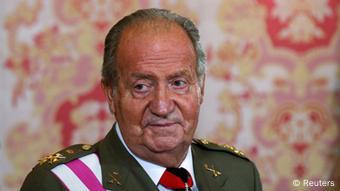 Spain's former king, Juan Carlos
Now, Felipe has the task of mending the tattered flags of the Spain's royal house.
"Felipe should stabilize the monarchy and hold the nation-state together," said royalty expert Michael Begasse. The country, beyond its economic woes, has to deal with separatist movements in both Catalonia and the Basque country.
At 46, the only child of Juan Carlos and Sofia makes for a relatively young king. But he's apparently well prepared for his life's calling: Since he was nine, when he received the title crown prince, "Prince of Asturias," he's been groomed for his future role as king. As his father put it, "He will one day be the best-prepared king of Spain."
He is, in fact, the first Spanish monarch with a university degree. After studying law at the University of Madrid, he received a master's degree in international relations at Georgetown University in the United States. He completed officer training programs in the air force, navy and army.
Funny, intelligent, athletic...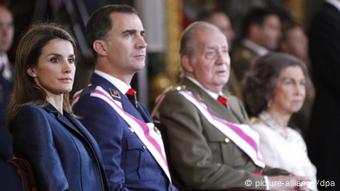 The royal family at an army event in Madrid in January
In his spare time, it's also about diversity: Felipe admits to preponderance for fast cars and motorcycles, as well as skiing, dancing and sailing. At nearly two meters tall (six and a half feet), Felipe showed enough talent in water sports to take part in the Olympic Games.
"Felipe is a very humorous man. He's intelligent and super athletic," Begasse said.
But Spain's future king is also intensely family oriented. Together with his wife, television journalist Letizia Ortiz, he has two daughters: the eight-year-old Leonor and seven-year-old Sofia.
"There are very strict rules," Begasse said. "For example, there are never appointments on the weekend, since he doesn't want to be king or crown prince at that time, but rather just 'papa.'"
Despite rumors of a marriage in crisis, the relationship is stable, Begasse added.
According to a palace spokesperson, "You have ups and downs, which is quite normal in a 10-year marriage."
In their spare time, the couple is often seen maintaining close contact with the public and have repeatedly been seen together on shopping trips.
… or perhaps restrained and 'pale'?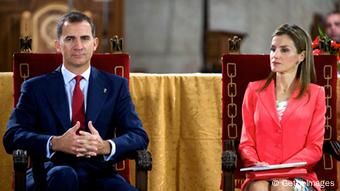 Letizia is viewed as middle class: a divorcee, her grandfather was a taxi driver
The new king and jack of all trades is largely beloved by the people - so much so, that his detractors have little to work with.
"His father had this wholehearted, sleeves-rolled-up, Spanish style. That's something Felipe doesn't have," said Seelmann-Eggebert. "He's much more reserved."
The 46-year-old is said to have inherited his mother's calm and disciplined disposition.
"To me, even though he already has some experience representing [the Spanish monarchy], he seems shy," said Seelmann-Eggebert, adding that Felipe's wife, Letizia, with her open, cheerful style, will have to fill in those social gaps in the future.
For Begasse, Felipe's reserved aspect could also translate to public policy.
"He's relatively colorless. You don't know what the new king stands for."
That of course also has its benefits. In contrast to his fun-loving father, Felipe has, thus far, avoided blunders. Scandals and affairs are foreign to him.
He also has something of a role model to guide him: Dutch King Willem-Alexander, who in 2013 ascended the throne at a relatively young age.
"Felipe and Letizia can learn a whole lot from that - what it means not only to take flowers and cut ribbons, but to bring a country forward," Begasse said.