A man who fired four shots from an airgun in the eastern German city of Erfurt, was arrested on Saturday. Police said the man shot at security forces through the open window of a flat about a kilometer (600 yards) from Erfurt's Cathedral Square, where 30,000 people had gathered to celebrate mass with Pope Benedict XVI.
Police say no one was injured and the pope had not been in danger at any point, since he arrived an hour after the incident. The mass was held two hours later.
Security for the pope's first state visit to his native Germany has been tight and large parts of Berlin, Erfurt and Freiburg have been locked down for the trip, requiring a massive police presence and resources.
Praise for Christians of former East Germany
In the first papal mass to be held on former East German territory, Pope Benedict praised German Catholics for holding on to their faith despite pressure from the communist regime.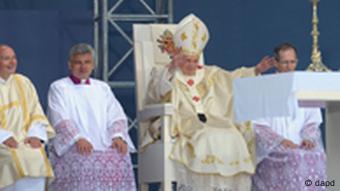 It was the first papal mass held on former GDR territory
"You have had to endure first a brown [Nazi] and then a red dictatorship, which acted on the Christian faith like acid rain," he said.
He claimed that the events leading up to reunification from 1989, "were not just motivated by wealth and the freedom to travel," but also "by a longing for truthfulness."
Protestant disappointment
The pope was criticized for his speech in Erfurt's Augustin monastery on Friday, for failing to honor the father of Reformation, Martin Luther. "I will say very openly that I expected more from the pope's speech" the vice president of the Synod of the Protestant Church in Germany, Günther Beckstein, told Vatican Radio, adding that the pope should not just pay lip service to the ecumenical cause.
Pope Benedict continues his four-day tour of Germany in the Catholic stronghold of Freiburg in southwestern Germany, where he will meet former Chancellor Helmut Kohl, representatives of the Orthodox Church, as well as representatives from the Central Committee of Young Catholics.
Author: Nicole Goebel (dpa, dapd, epd, KNA)
Editor: Ben Knight