He's supposed to own the largest collection of sports and luxury cars in the world and lives in a palace with 1,800 rooms. Hassanal Bolkiah is one of the world's richest men and known not just for his luxurious lifestyle. As the sultan of Brunei, he has governed a people of 420,000 subjects since 1967. The 67-year-old monarch is head of state, head of government, defense minister and finance minister all rolled into one.
In addition to that, the sultan is also the highest guardian of the Islamic state religion - and calls the introduction of Sharia law in his kingdom a "great success." On May 1, 2014, Brunei became the first country in Southeast Asia where the Islamic legal system is enforced on a national level.
Sharia introduction in three steps
Since then, the first phase of Brunei's penal law reform has been in effect. Violations such as not fasting during Ramadan and missing the Friday prayer can be punished with fines or jail time. The second phase will begin in 12 months: Muslims who commit theft or drink alcohol can then be punished with whippings or even have a limb cut off. In the final phase, capital punishment, including stoning, will be imposed for adultery, sodomy and insulting the prophet Muhammad.
It's not clear yet how the newly implemented laws will coexist with the civil and penal law inherited from the British colonial power. Joshua Roose, political and social scientist at the Australian Catholic University in Melbourne, however, cautions against knee-jerk reactions: "One has to remember that there is leeway in how strictly you interpret the Sharia." According to the researcher, it remains to be seen to which degree these laws will actually be applied.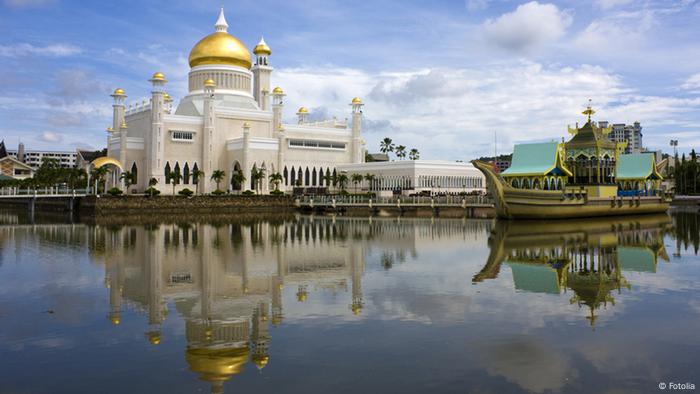 Brunei is the second-richest country in Asia after Singapore
A setback for human rights in Brunei
Meanwhile, some legal experts and human rights organizations have expressed alarm. The introduction of Sharia is "a huge setback" for human rights in Brunei, Phil Robertson, deputy director of Human Rights Watch's Asia division, said. "It's an authoritarian move towards brutal, medieval punishments that have no place in the modern world of the 21st century."
"According to international law, stoning a human being is torture," Rupert Colville of the United Nations Commission on Human Rights said. Experience has shown that mostly women are affected by the draconian punishments like stoning, Colville added.
Emerlynne Gil of the International Commission of Jurists in Bangkok called for the Association of Southeast Asian Nations (ASEAN) to step up. "ASEAN wants to prove to the world that it is a righteous organization capable of developing its own human rights norms," Gil said. "This effort is undermined by the new laws in Brunei."
By 2015, the ASEAN countries want to establish an economic union, which is supposed to grant their citizens free movement among the member states. "The ASEAN members should be aware of the fact that from now on, their citizens will be subject to these restrictive laws when they stay in the sultanate," said Gil.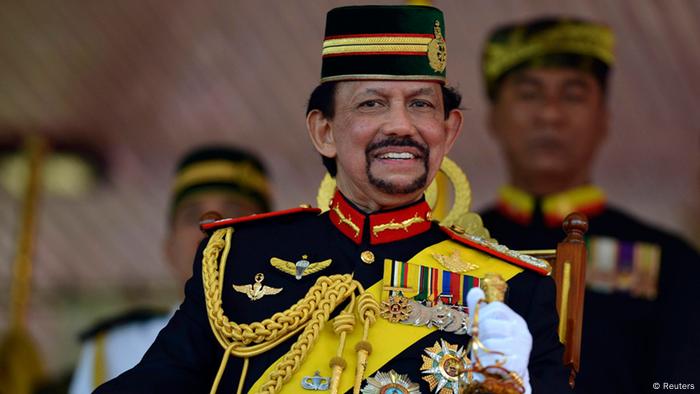 Sultan Hassanal Bolkiah leads a lavish lifestyle
Somewhere between compliance and self-censorship
It is still unclear, however, to what extent Sharia law will be applied to the non-Muslims in Brunei. Two thirds of the citizens are Muslim Malays, the rest is mainly made up of ethnic Chinese, Filipinos, western expats and indigenous people of many differing faiths.
Social scientist Joshua Roose thinks it likely that the Muslim majority approves of the new law to a certain degree. But Brunei citizens never really air their grievances publicly anyway, Roose said. "Brunei has been a dictatorship for decades," the Islam expert explained. "It has been sheltered from the social unrest happening in the other Southeast Asian countries by its relative wealth."
The population has always profited from the country's oil earnings, pays almost no taxes and enjoys extensive social benefits like free education and healthcare. The sultanate has basically purchased the compliance of its subjects, lawyer Emerlynne Gil said. She worries about the growing self-censorship: "For fear of retribution, people hold back their criticism of the new Sharia law."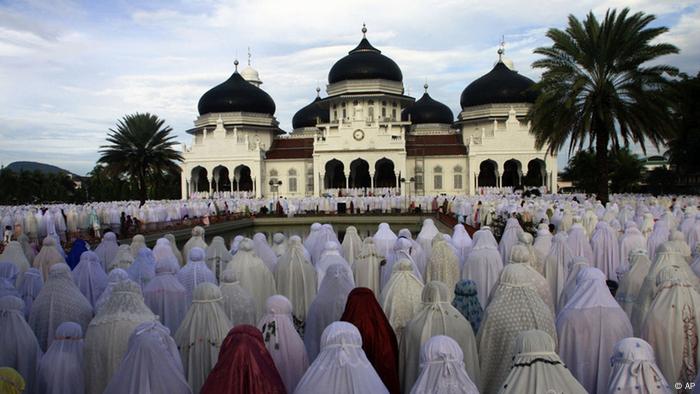 Sharia also forms the basis for law in Indonesia's Aceh province
A new trend?
While neighboring states Malaysia and Indonesia are dominated by a more moderate Islam, the two countries have also seen tendencies toward heightened orthodoxy. Phil Robertson from Human Rights Watch calls this an alarming trend: "In Malaysia as well as in Indonesia, some people try to use religion to restrict human rights of social groups with faiths different from their own."
The Indonesian Aceh province introduced a milder version of Sharia law back in 2000. In this year's national parliamentary election, the conservative-Islamic party only managed to attain one third of the votes.
In Malaysia, the Kelantan state is ruled by the Islamist PAS opposition party. The local government is considering introducing Sharia in Kelantan, but according to the national constitution, Malaysia is a secular country.
On the other hand, Gil sees no sign of Southeast Asian Islam becoming more conservative as a whole: "Brunei has been in a state of emergency for four decades, with the sultan being both the executive and legislative," the jurist said. "Sharia law in Brunei represents the volition of a single person or a small group influencing this person. It's not a trend. And I don't think that Brunei's population wanted this law. The people had no say in it."

Some analysts believe that the sultan's decision is politically motivated. Brunei's resources will dwindle in the future. Sharia, they say, could be a way for the ruler to preserve social cohesion in the face of possible unrest and secure his political legacy.