Severin Freund became the first German in 13 years to win on the Four Hills Tour, winning the ski jumping event in Oberstdorf, Germany on Tuesday with a spectacular second jump.
Freund was in fifth place after his first jump, but he flew 137.5 meters on his second to usurp the top spot from Slovenian Peter Prevc, who lead qualifying on Monday. He finished with 307.2 points, three more than Austria's Michael Hayböck, who had the biggest jump of the event at 139 meters.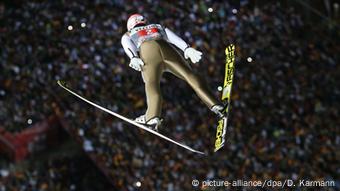 Severin Freund's astounding 137.5 meter jump propels him to Four Hills Tour win.
"I am incredibly happy. It's a wonderfully beautiful moment," Freund said after his win. "It was a very good second jump. The wind conditions were changing constantly."
Freund's win halted Prevc's win streak on the Four Hills Tour at three. Currently ranked No. 2 behind Prevc, Freund is hoping to become the first German since Sven Hannawald in 2002 to win the Four Hills Tour.
The next round of the Four Hills Tour will be in Garmisch-Partenkirchen, Germany, on January 1, before heading to Innsbruck and Bischofshofen in Austria on January 3 and 6 respectively.
dv/msh (dpa, AP, AFP)