Ahead of Monday's qualifying for Oberstdorf, the 27-year-old Freund appeared to be cautiously optimistic about Germany's chances of winning the overall tournament for the first time since Sven Hannawald made history by becoming the only jumper to sweep all four events in 2001-02.
"We have three people, who can be right up there," Freund told reporters on Sunday, referring to himself and teammates Richard Freitag (who won the Four Hills event at Innsbruck last year) and Andreas Wellinger.
"In the past few years we haven't looked all that great," Freund conceded, before adding that "now we are a step further."
German ski jumping coach Werner Schuster said that even if his charges had not been very successful at the Four Hills in recent years, it remained very popular with the athletes and coaches alike. Without making any promises, Schuster seemed to think that the 2015-16 edition of the event could be different.
"We've had a good start to the season and besides Severin, in Richard and Andi we have two additional jumpers of a top-five quality."
Slovenia's Prevc among the favorites
While some regard Freund, the winner of last year's World Cup, as the favorite, Schuster was also quick to point to the man who is leading this season's World Cup standings, Peter Prevc of Slovenia.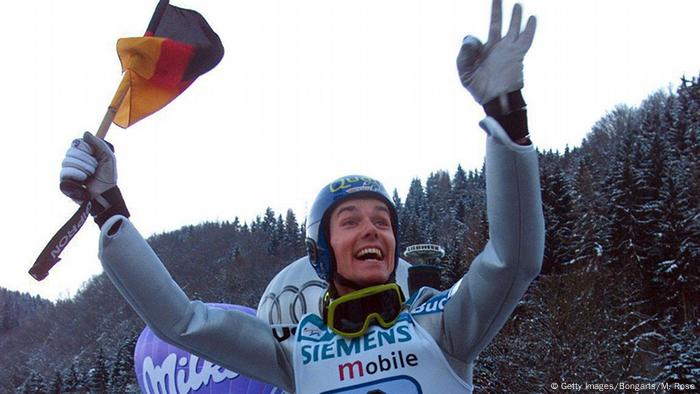 Hannawald's Four Hills sweep in 2001-02 was Germany's last tournament win
"Peter Prevc is certainly one of the top favorites, Schuster said. "He is at his best in years and really dangerous… Whenever he has been second behind Severin he has jumped the following day like there is no tomorrow.
Despite their "favorite" billings, neither Freund nor Prevc have had much success at the Four Hills to date, with the German's best result being a seventh overall finish in 2012 and the Slovenian finishing third one year ago.
The Austrians, meanwhile, will be looking to extend their winning streak to eight, after one of their jumpers won each of the last seven Four Hills titles. Austria's hopes are riding mainly on last year's winner, Stefan Kraft, currently in ninth in the World Cup standings and Gregor Schlierenzauer, who has won the tournament twice previously. Martin Hayböck, Austria's best jumper so far this season (sixth in the standings), should also not be counted out.
The Four Hills tournament has been held annually in southern Germany and Austria since 1952. The four individual events are part of the World Cup and points earned count in the season's standings.
After Oberstdorf, the jumpers will move onto Garmisch-Partenkirchen for Friday's event. After that they cross into Austria for the events in Innsbruck on Sunday and the final jump, in Bischofshofen next Wednesday.
pfd/ (SID, dpa)