"They treat him like a dangerous criminal." Judith Minor has had to live with that reality for the last 13 years - ever since her son Ricky disappeared behind the bars of Yazoo City Jail in Mississipi because he had drugs worth a handful of dollars on him. He was sentenced to life without parole - something his 76-year-old mother just cannot fathom.
But his case is no exception in the US justice system. It could be a pair of socks, a slice of pizza - many petty thieves serve life sentences in the US. Ricky Minor's offense was carrying one gram of methamphetamine. He is just one of the 3,300 people that serve life sentences without parole for minor, non-violent offenses in the land of the free.
"These are people who are sentenced to die in prisons for shoplifting three belts from a department store, for stealing gasoline out of a truck, for having a bottle cap with an unweighable amount of heroin," says Jennifer Turner from the American Civil Liberties Union (ACLU).
"There are tens of thousands of others serving excessive sentences, many others who will die in prison because they've been sentenced to such long sentences that aren't formally life without parole but who will never see freedom again," Turner adds.
In their report "A living death," Turner and other activists are sounding the alarm over these conditions.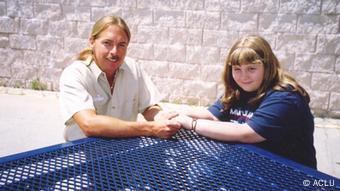 Ricky was sentenced to life without parole
"These sentences are the direct result of laws that were passed over the last 40 years, as part of the war on drugs and tough-on-crime policies. Those policies led to the passage of mandatory minimum sentencing laws, three-strikes laws and other mandatory sentencing laws," Turner told DW.
Three strikes and you're out
Those laws stipulate sometimes draconian punishment for petty crimes. In some states, like Louisiana and Florida, the three-strikes law puts anyone in jail for life who has been convicted three times.
"They had committed those prior crimes as long as two or three decades earlier. Some hadn't even done any time for their prior crimes because they were so minor," said Turner.
She tells the story of a man who was sentenced to life because he was caught stealing the age of 16. "It was used to sentence him to mandatory life without parole. And in that case he was sentenced to life without parole for steeling his stepfather's gun after his stepfather shot at and threatened to kill his mother." The stepfather got off scot-free.
Another man has to spend the rest of his life in prison after he tried to steal a leather jacket worth $150 (110 euros). "These sentences are grotesquely out of proportion," Turner says. And she is not alone in thinking that.
"My hands are tied, I have no control over the sentence I give you, you don't deserve life," Minor's judge said. His mother remembers it vividly. "I almost came out of my chair."
Inevitable sentence
But the judge was right, the law is binding, a true verdict is not expected from the judges, Turner says. "The judges simply cannot do what they're supposed to do - which is to judge, which is to select a punishment that's appropriate for both the crime and the person before them and, in fact, they have to use these mandatory laws that automatically require them to lock up the person and throw away the key."
She says she has come across many legal experts who've said "I disagree with the sentence. As a judge, as a citizen of the US, as a taxpayer. This is a travesty and it's silly. But I don't have a choice."
The contentious law costs $1.8 billion worth of taxpayers' money annually. "I don't think that voters who supported these legislations and even some of the legislators who passed these laws necessarily envisioned that people would be locked up for the rest of their life for shoplifting a jacket," Turner says, but these sentences are being handed down every week.
"A judge should have the discretion not to give a life sentence," says Burl Cain, a warden at Louisiana State Penitentiary, which is nicknamed Angola. "This is not what the forefathers envisioned when they wrote the constitution. That's extreme. That's cruel and unusual punishment to me."
Vicious cycle
Nationwide, in 65 percent of these cases the perpetrator is African American, in Louisiana, it's 91 percent of cases, according to the ACLU report.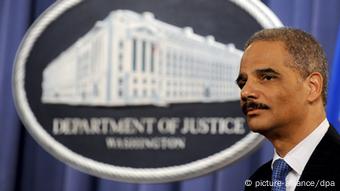 The US Attorney General also sees room for improvement
"We have only 5 percent of the world's population, but 25 percent of the world's prisoners are in the US," Turner says.
No wonder then that the federal prisons are bursting at the seams because they have exceeded their capacities by 40 percent.
"A vicious cycle of poverty, criminality and incarceration traps too many Americans and weakens too many communities," Attorney General Eric Holder said recently, when he announced an overhaul of the justice system. Under his plans, petty criminals serving drug-related sentences are to be released.
A good start, according to Turner, but not enough. ACLU wants to pressure Congress to repeal the contentious law. A petition to President Barack Obama is also in the works.
For Judith Minor and her husband it is a race against time. Their son, she says, had done everything to further his education in prison, to prepare for a new beginning.
When they go to see him in prison, he often dreams of being outside with his dog, looking up at the trees. "He's ready to come home," Judith says. "He longs for the day he might just get out while we're still alive. That's our one hope, that we get to see him released from prison."