Critics have questioned the level of risk - and the push for ratings - that meant one of Germany's most popular television programs had to be pulled off air when a contestant was seriously injured.
A spokesperson at Dusseldorf University Hospital revealed Sunday that the participant, 23-year-old Samuel Koch, was showing "signs of paralysis" with serious spinal cord and neck vertebrae damage.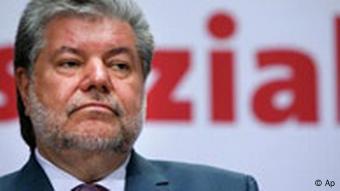 ZDF governing chairman Kurt Beck said there were serious issues to face
Koch was injured while taking part in the popular family show "Wetten, dass…?" ("Wanna bet?"), aired by public broadcaster ZDF. He attempted to jump over five oncoming cars using spring-powered stilts live on air. However, he was struck by the fourth vehicle he attempted to clear, and was left motionless and face-down on the floor.
Questions have now been raised over the evaluation of risks posed to participants, who carry out daring feats - the outcome of which is betted upon by celebrity guests.
"We have to talk about certain issues," said Kurt Beck, chairman of ZDF's governing body. "When was the boundary of responsibility crossed? How much risk should be involved?" said Beck.
Present as an eyewitness at the event, Hannelore Kraft, the president of Germany's upper house of parliament the Bundesrat, expressed her reaction at what had happened to Koch.
"I was shocked and upset and then I prayed," she told the German daily newspaper Rheinische Post's Monday edition. "We all worry with his family and hope that he gets well again soon," said Kraft, who is state premier North-Rhine Westphalia, where the accident took place.
German daily and Sunday newspapers were awash with commentaries in response to the accident.
Not so family friendly
The Rheinische Post asked if the show could still really claim to have a family-friendly format.
"Since Saturday evening, finally, parents have to think seriously about whether Wetten Dass…? represents an appropriate format for children."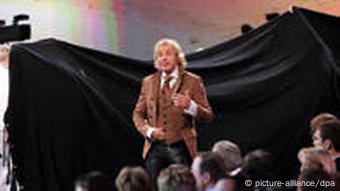 Show host Thomas Gottschalk talking to viewers before the show was taken off the air
"It was not really foreseeable that many children would be watching as a contestant sustained life-threatening injuries but there has always been an element of risk surrounding the program."
'Is this public broadcasting?'
The Braunschweiger Zeitung said that television in which such risks were taken to increase viewer ratings did not perform a broadcasting role.
"If the publicly-funded organizations chase ratings so senselessly, why do we need publically financed television?" the newspaper asked.
The Frankfurter Rundschau was a little more philosophical in its interpretation of events.
"For ZDF, with its desire to produce family entertainment, the accident is a disaster. However, for viewers and potential copycats, this accident filmed live on camera also carries an important lesson. It is not possible to dabble with extremes without danger."
Pop act Take That and teen heartthrob Justin Bieber had been due to appear on the show, which was taken off the air shortly after the accident. Koch had been using special jumping devices known as "powerbocks," after their German inventor Alexander Boeck, to jump over the cars.
Author: Richard Connor (AP, dpa, epa, KNA)
Editor: Rob Turner