Stephen Letter, 28, was saddled with Germany's most stringent sentence on Monday in Kempten after a nine-month trial.
The former nurse had been accused of injecting 17 women and 11 men with a lethal combination of anesthesia and muscle relaxant in a hospital in Sonthofen in the Bavarian Alps between February 2003 and July 2004.
Mixed verdict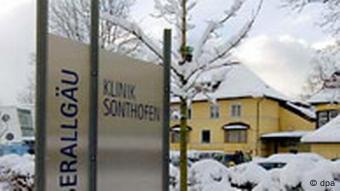 The hospital in Sonthofen where Letter worked
In a verdict that closely matched the prosecution's demands, the court declared the defendant guilty of 12 counts of murder, 15 counts of manslaughter and five counts of attempted murder, killing on demand and causing severe bodily injury.
The defense had admitted to only 15 patient deaths and requested a shorter prison term.
At the beginning of the trial in February, Letter partially confessed to the crimes, which he called mercy killings. He said he'd wanted to release the patients from their suffering.
Germany does not have the death penalty.