Twenty-seven-year old Stephan Letter went on trial Tuesday over the deaths of 29 mostly elderly patients in what may have been the worst killing spree in postwar German history.
The defendant -- nicknamed the "Angel of Death" by the German press -- admitted when he was arrested in July 2004 to killing 12 patients in his care by lethal injection at a clinic in the town of Sonthofen, in the Bavarian Alps.
'Saving' the dying
He told police the killings had been acts of mercy to "save" dying people from their suffering. Investigators subsequently dug up 42 graves of people who died at the clinic in Sonthofen for autopsies, in some cases against the fierce resistance of their loved ones.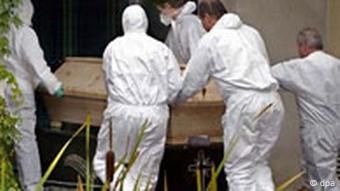 Cemetery workers exhumed bodies for evidence in the case
The nurse was then charged with 16 counts of murder, 12 of manslaughter and one count of killing on demand. If convicted, Letter could face life in prison.
The deaths began in February 2003, less than a month after the nurse started working there, and all the patients died during Letter's 17 months at the Sonthofen clinic. The majority were 75 years of age or older, though the youngest was only 40.
The deaths of the patients raised no suspicion at the time, but the police were called in because medication had disappeared from the clinic. Stephan L. was finally arrested when they found medicine at his home which the state prosecutor in the southern city of Kempten, where the trial is taking place, said was enough to kill 10 people.
'Indiscriminate, aimless' acts
The prosecution said that Stephan L. had maliciously ended the lives even of patients who were recovering and in some cases stole their belongings.
"He acted relatively indiscriminately and aimlessly," said Wilhelm Seitz, a lawyer who is representing relatives of 11 of the dead as co-plaintiffs in the case, speaking to the Associated Press news service.
"Not all of the patients were seriously ill, and he had had no contact at all with some of them."