The protesters - estimated at over 10,000 - gathered outside government offices on Saturday. Most were students, but they were joined by labor union members and representatives of the police and army.
They later moved on from there to rally on the Serbian capital's major boulevards.
Protesters held placards in front of the seat of government that read, "We go hungry and the elite enjoy themselves." Other placards called Vucic a thief.
Protesters are demanding Vucic's resignation for what they see as his fraudulent election as president last Sunday.
Demonstrators also called for the parliament speaker, Maja Gojkovic, to be sacked for sending the parliament into a six-week recess during the election campaign, effectively denying the opposition a platform to air their views.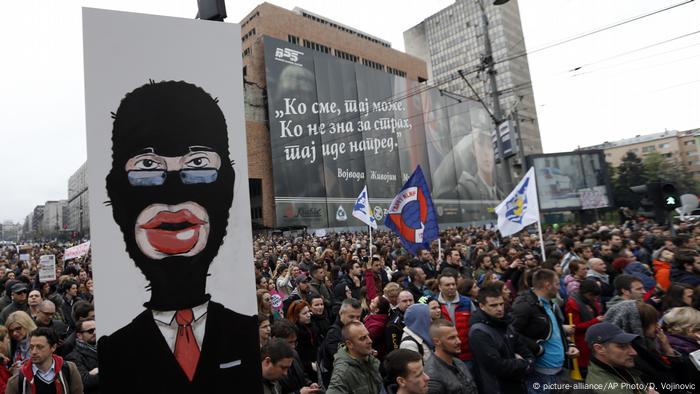 A protester holds a banner depicting PM Aleksandar Vucic, during a protest in Belgrade on April 8.
Call for fresh elections
Police union chief Veljko Mijailovic told the crowd: "[We are a] major coalition of the army, police and the people," according to the Beta news agency. Another speaker called for fresh elections to be held.
Vucic won the presidential election in the first round on April 2 with a clear majority, garnering 55 percent of votes, and will take office as president in late May.
His main rival - ex-ombudsman Sasa Jankovic, who came second with 16 percent - has supported the protests, which began immediately after the election.
Jankovic said protesters were unhappy with the "injustice of the autocratic regime which threatens Serbia with dictatorship."
Vucic, who wants Serbia to join the EU, said: "Everyone (has) the right to express their opinion. I don't have a problem with that. It's just important that everything happens absolutely democratically and calmly."
jbh/tj (AFP, dpa)