A high-ranking airport police officer was charged on Monday over the planting of a fake bomb in luggage on its way from Namibia to Germany.
The 51-year-old man was charged at a magistrates' court in the Namibian capital of Windhoek with breaking airport and explosive laws.
Namibian police said the man had worked for airport security for at least five years, and that there was no apparent motive for the planting of the fake device.
German news agency DPA said that Berlin's ambassador in Windhoek, Egon Kochanke, had denied reports that a security exercise at the airport involving Germany had played a role in the incident.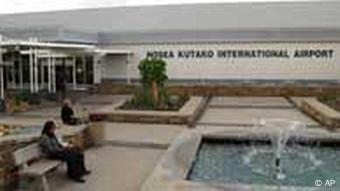 The fake device was found in a screening area at the airport
"There was no such thing as a German security exercise with a dummy luggage bomb," Kochanke said.
Claims of German involvement in exercise
A Namibian newspaper had earlier reported that an unnamed cabinet member from the country had complained that Germany's involvement had been "reckless and irresponsible." The claim that German authorities were involved had also been denied by the Namibian government.
The device was found in a luggage screening area at Windhoek's Hosea Kutako airport and led to the delay of an Air Berlin flight to Munich.
An X-ray investigation had revealed a detonator wired to batteries was present, along with a clock - but no explosive material was found.
Germany is currently on alert, with warnings of heightened terrorism threats.
Public access to the Reichstag, Germany's parliament building, was restricted on Monday after weekend reports that Islamist militants had plans to attack the Berlin landmark.
Author: Richard Connor (dpa, AP)
Editor: Nancy Isenson