Human Rights Watch (HRW) said on Saturday that at least 75 people had been killed in recent weeks while protesting an urban renewal plan in the Oromo region surrounding the capital, Addis Ababa.
"Police and military forces have fired on demonstrations, killing at least 75 protesters and wounding many others, according to activists," the human rights watchdog said in a statement.
In November, students peacefully demonstrated against government plans to take over territory in several towns across the region.
However, the unrest was met with a severe response, including government forces using firearms against protesters.
'Dangerous escalation'
"The Ethiopian government's response to the Oromo protests has resulted in scores dead and a rapidly rising risk of greater bloodshed," said HRW's Deputy Africa Director Leslie Lefkow.
"The government's labeling of largely peaceful protesters as 'terrorists' and deploying military forces is a very dangerous escalation of this volatile situation," Lefkow added.
Government spokesman Getachew Reda said the "peaceful demonstrations" that began in November escalated into violence, blaming the protesters for "terrorizing the civilians."
He said only five people had died, dismissing the higher toll reported by activists.
Oromo opposition leader Bekele has announced his support for peaceful protests, according to DPA news agency.
"Grievances have accumulated over the years. Over the evictions, but also over the lack of democracy in this country, the human rights abuses and the level of poverty," Gerba said in a statement.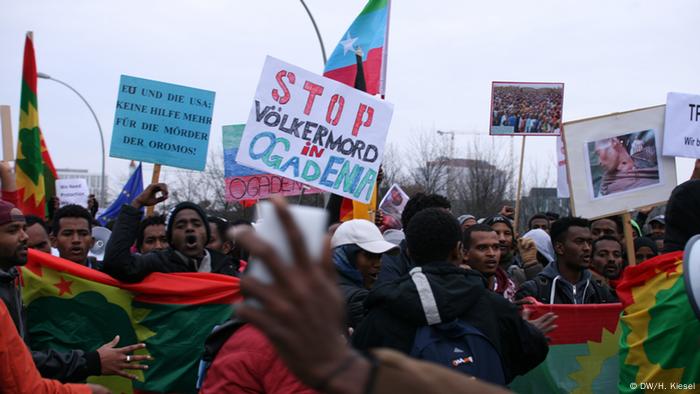 Activists in Berlin have protested the Ethiopian government's response to the Oromo protests
International outcry
The US State Department on Saturday expressed concern over the crackdown, urging the government to allow "peaceful protests."
"The United States is deeply concerned by the recent clashes in the Oromia region of Ethiopia that reportedly have resulted in the deaths of numerous protesters," the State Department said in a statement.
"We urge the government of Ethiopia to permit peaceful protest and commit to a constructive dialogue to address legitimate grievances," it added.
The region of Oromia is the most populous federal state in the East African country, with 27 million people. It is inhabited by the Oromo people, Ethiopia's largest ethnic group.
ls/tj (AFP, dpa)