More than three weeks after regional elections saw right-wing populists Alternative for Germany (AfD) win 24.3 percent of the vote in Saxony-Anhalt - the state parliament finally announced its new vice president on Tuesday.
"The result was really a surprise," said new parliamentary Vice President Daniel Rausch (above right). This is the highest political office ever achieved for the anti-migrant party, which was founded in 2013.
Many had expected Left party lawmaker Wulf Gallert (above left) to win an outright majority in the first round of voting. When he failed to garner the necessary votes, Gallert managed to scrape into the next round, putting him on the same level as Rausch but only after a humiliating defeat.
Upstart AfD upsets the apple cart
This marks the second time in a month that the AfD has provided a stumbling block to established parties in Saxony-Anhalt. The party first upset the apple cart in by coming second to the center-right Christian Democrats (CDU) in the state election on March 13.
This cut the support for the center-left Social Democrats (SPD), preventing the two mainstream parties from reforming the grand coalition with which they had ruled Saxony-Anhalt for the previous four years.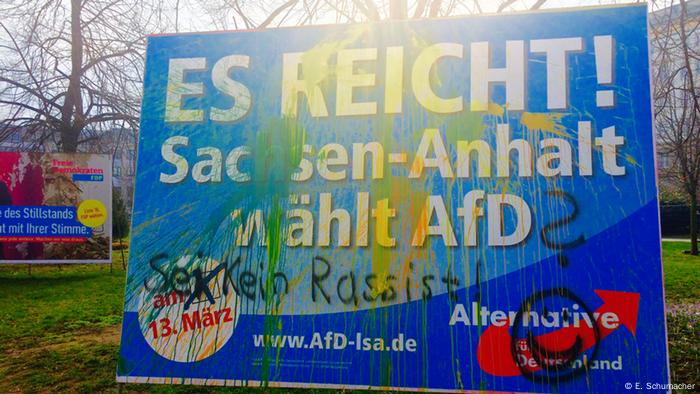 'Don't be racist' says a vandalized AfD campaign sign in Magdeburg, Saxony-Anhalt
As the AfD continued to court controversy with its nationalistic rhetoric, Chancellor Angela Merkel's CDU formed a government with a CDU-SPD-Green coalition - the first of its kind in German history.
Rausch was not elected solely by the other AfD members in the 87-member legislature. With 46 votes putting him in office, Rausch received 21 votes from members of other parties.
The leader of the CDU in Saxony-Anhalt's parliament also indirectly voiced his consternation over the vote, saying "this has been a totally democratic act. We honor the office, not the person."