At the beginning of this week, a nearly 100-meter-tall (328-feet-tall) wind turbine collapsed in Hamburg in northern Germany. In addition, a 40-meter-long blade of a wind turbine broke off in Zichow, also in northern Germany. In the weeks leading up to New Year's, a 95-meter-tall wind turbine collapsed in Saxony. And in Süderholz in Mecklenburg-Western Pomerania, a 70-meter-tall turbine tower fell in mid-December.
Despite this, the German Wind Energy Association (BWE) still considered the wind power infrastructure in Germany to be safe. A spokesman said these were isolated cases. There are around 26,500 wind turbines nationwide, and on average six to seven incidents per year - such as a fire after a lightning strike or a broken rotor blade. According to the association, four affected turbines within just four weeks was unusual.
Experts examined each case individually, said the BWE spokesman. At least in the two cases in Saxony and Mecklenburg-Western Pomerania, it was already clear that there were no maintenance gaps. "Now the question is all the more important as to which component was the problem and whether it has to be examined more closely during future maintenance."
'An exceptional situation'
According to the latest findings, a defective rotor blade caused a chain reaction in Saxony. BWE, which represents the operators of wind turbines, said that all wind turbines were regularly inspected according to the guidelines of the German Center of Competence for Construction. Every two to four years, the stability of the entire structure is scrutinized, while electrical components are examined every six months.
"The operators also adhere to this because everyone wants to produce [energy] without any breakdown," the spokesman said.
As a rule, wind turbines are designed to last for 20 years according to the German Engineering Federation (VDMA). Parts subjected to regular wear and tear are replaced, if necessary.
"It is very rare that the whole tower falls over like recently," says Johannes Schiel, VDMA's expert for wind energy. "This is a very exceptional situation."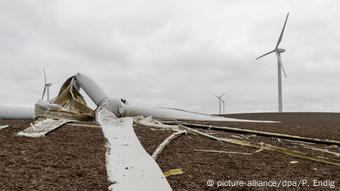 A picture that people are supposed to get used to?
Two of the towers in question were 16 and 18 years old - an advanced age for turbines. But the foundations and towers were built to last longer, said Schiel.
Now it is necessary to closely monitor whether turbines of this generation are more likely to experience problems - and operators must ensure that the towers stand firmly and securely in the ground.
If the rotor blades were to blame in the current cases, Schiel thinks the manufacturers "would be required to check whether the installed blades of this generation were somehow defective."
According to VDMA, the 26,500 wind turbines installed in Germany generate an output of almost 42,000 megawatts of power on land and about 4,000 megawatts at sea annually.
tr,bea/ hb (dpa, Spiegel)