The deaths during the Hajj stampede, one of the worst accidents over the years at the annual Muslim pilgrimage to Mecca, are likely to increase further, as Saudi officials put the blame on "undisciplined pilgrims" who had "not followed instructions." The authorities said the safety measures at Mina, where Hajjis (pilgrims) throw pebbles at a depiction of the devil as part of Islamic tradition, were foolproof.
"Many pilgrims move without respecting the timetables," which was the "principal reason for this type of accident," Health Minister Khaled al-Falih was quoted by El-Ekhbariya television as saying on Thursday.
"If the pilgrims had followed instructions, this type of accident could have been avoided," he added.
Ambulances rushed to the scene to transport the wounded to hospitals. The number of injured people is also in hundreds.
The tragedy unfolded on the first day of Eid al-Adha as pilgrims prepared to throw pebbles at the Jamarat in Mina, a ritual meant to symbolize the stoning of the devil. Mina is also where many pilgrims are accommodated in more than 160,000 tents.
The annual five-day Hajj pilgrimage draws millions of Muslims to Mecca, presenting logistical, health and safety challenges for Saudi authorities.
Performing the Hajj is one of the five pillars of Islam; every Muslim able to make the journey is expected to do so at least once in life.
'Inadequate' safety measures
But Iran accuses Saudi authorities of safety errors during the Hajj. At least 15 of its citizens have died in the stampede.
Said, Ohadi, the head of Iran's Hajj organization, said the Meccan officials had closed off two paths near the site of accident for "unknown reasons."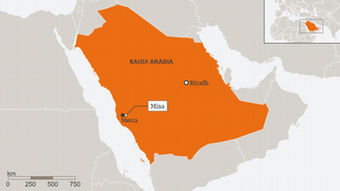 "This caused this tragic incident," he told the Iranian state TV, insisting that the closures had left only three routes to the area for the millions of pilgrims.
"Today's incident shows mismanagement and lack of serious attention to the safety of pilgrims. There is no other explanation. The Saudi officials should be held accountable," Ohadi said on Thursday.
Earlier this month, a crane crashed over the pilgrims at the Hajj site, killing over 100 people.
Similar stampedes during the stoning ritual in 2006 and 2004 killed 364 and 251 people respectively.
shs/msh (AFP, AP)