The casket of late Supreme Court justice Ruth Bader Ginsburg arrived at the US Supreme Court Wednesday to lie in repose, the start of three days of official commemorations of her life in the capital.
Mourners waited for hours to see the casket as it was brought to the building where Ginsburg worked for 27 years before dying on Friday from pancreatic cancer at 87 years old. Some of those who waited for the casket knew her very well.
"On a personal level, she was such an amazing person. She had a mind like a steel trap," Jill Alexander, whose husband served as a clerk for Ginsburg when she was an appeals-court judge, told Reuters.
Others came to pay respects to a justice who pushed for women's rights, with one woman traveling from Chicago, a drive of more than 10 hours.
Mourners will have to follow social distancing rules and wear masks in order to see the casket because of coronavirus concerns.
'When she spoke, people listened'
A private ceremony involving Supreme Court justices and close family and friends took place earlier on Wednesday in the Supreme Court's Great Hall. Chief Justice John Roberts said Ginsburg's decisions were written with the "unaffected grace of precision."
"The voice in court and in out conference room was soft. But when she spoke, people listened," said Roberts.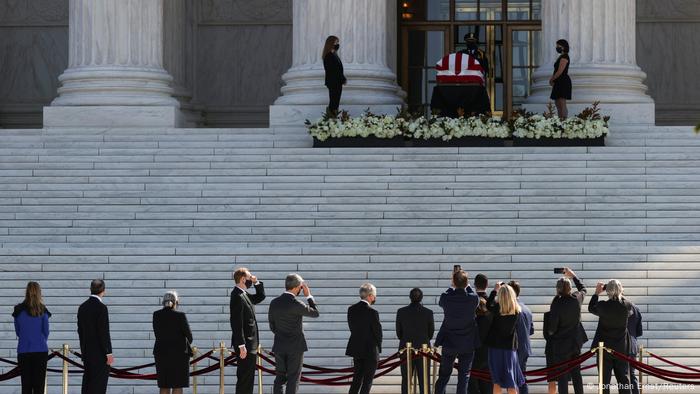 People waited for hours to see the the casket of the former Justice at the top of the steps of the Supreme Court
Ginsburg's casket will stay on top of the court's steps for two days, one more than usual due to her popularity.
US President Donald Trump is expected to visit the Supreme Court on Thursday to pay his respects. Trump is planning to nominate Ginsburg's potential replacement later this week, albeit in the face of fierce resistance.
Ginsburg's casket will be moved to the US Capitol building beginning on Friday, making her the first woman to "lie in state," to use the American parlance for a coffin being displayed in that particular building.
She will stay at the building until she is buried at Arlington National Cemetery next week, across the Potomac River from Washington, DC. Arlington is a military cemetery where Ginsburg's husband was buried in 2010,
kbd/msh (dpa, AP, Reuters)