Twelve men and women are candidates for UN Secretary General. Antonio Guterres of Portugal, formerly the UN High Commissioner for Refugees, is the frontrunner. One candidate must come from Eastern Europe, according to UN rules, and many international affairs experts have long seen Bulgaria's Irina Bokova, currently UNESCO Director General, as a top pick. However, Bokova finds herself in fifth place following the fourth ballot in the UN Security Council.
Polyglot in word and mind
Bokova is well-suited for the job, say those seeking to have the UN's first female leader. She is a strong advocate for women's rights and doesn't shy away from gritty diplomacy, which developing countries are especially grateful for. "She's a skilled diplomat, not only between two countries but among many," said Bulgarian political scientist Andrey Raychew. "She is the only candidate who speaks both Russian and English – not only as a language, but also in thought."
Bokova speaks Spanish and French, as well – in all, four of the UN's six official languages. The global affairs media network, "Diplomatic Courier," gave her a 4.5 out of 5 rating, according to the ARD Vienna bureau. The Chinese have been a long-time supporter of her. Now the question is whether the other permanent members will be, too.
"The decision comes down between Washington and Moscow," a diplomat told "Die Presse," an Austrian newspaper. Experts presume Russia would not want anyone from a NATO member state, which Bulgaria is.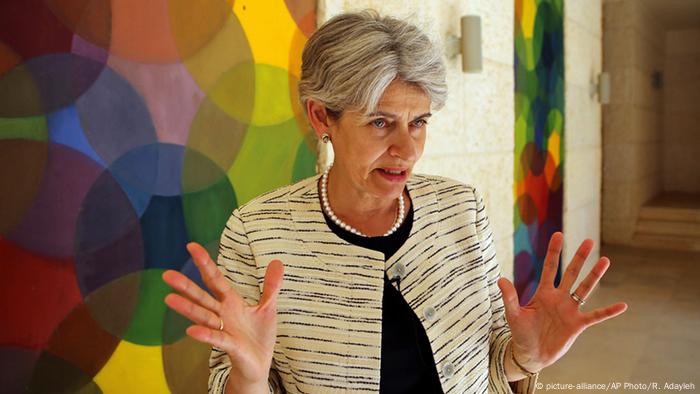 Irina Bokova is currently the head of UNESCO
Bokova's Russian leanings
Moscow's support for Bokova is likely, however, say observers. "Bulgaria belongs to a collection of countries sharply critical of Russia's actions in Ukraine and Syria. Meanwhile, Moscow is trying to split this group. Bokova's nomination is without a doubt part of this strategy," said Daniel Kaddik, southeast Europe project director for the Friedrich Naumann Foundation in Sofia.
Bokova enjoyed U.S. support until she pushed for UNESCO membership for the Palestinian Authority, according to the Economist. The United States was responsible for 22 percent of UNESCO's budget.
Bokova was one of the few western politicians to attend Russia's May 9 military parade – boycotted by most others – and her good relationship with President Vladimir Putin was on display. She is also a friend of Chelsea Clinton's mother in law, which could boost her chances of U.S. support, at least among Democrats, said Ognyan Minchev, a Bulgarian political scientist. He additionally foresees French support for her, given Bokova's former ambassadorship to France.
With three of the five Security Council permanent members behind her, only the United States and Great Britain remain an open question.
Bokova's past
If not for her "communist past," wrote the Wall Street Journal earlier this year, Bokova would be the leading candidate for the top UN post. Bokova is from an elite communist family, studied in Moscow during the Leonid Brezhnev years and held high government positions in Bulgaria following the Cold War as a member of the renamed ex-communist party.
"Children certainly do not carry the responsibility of their parents' crimes," said Kaddik. "The question is whether a person who was part of a tyrannical regime can find a responsible way around this past. That's questionable in Bokova's case."
"It's true that the Cold War ended long ago, and many former communists in the former Warsaw Pact have become democrats in good standing," the Wall Street Journal wrote. "But authoritarians are again on the march in the world, Mr. Putin chief among them. As U.N. Secretary-General, Bokova would have global influence and could create trouble for the U.S."