Germany's political bards of the 1970s were the starting point for Herbert Grönemeyer. He grew up with a record collection filled with names like Dieter Süverkrüp, Wolf Biermann and Franz Josef Degenhardt, but there was something frustrating about their approach.

"You'd sit there listening to their music, and they'd tell you everything you've done wrong and how stupid you are," the rock star onced mused.

So the singer from Bochum decided he could do it better - by making music and writing lyrics without all of the patronizing posturing.
Grönemeyer is now known in the German-speaking world for his music, but part of his roots are in acting. During his youth in Germany's western industrial Ruhrgebiet region, he began singing and playing piano for the municipal Schauspielhaus theater in 1974, where he was lead singer for the Bo-Band there.

His talents as an actor first came to light in a musical about the Beatles musical called "John, George, Paul, Ringo & Bert" that was staged at Bochum's Schauspielhaus, but international audiences know him best from his role in Wolfgang Petersen's epic film "Das Boot."
Renaissance man

Grönemeyer juggled theater and music - and much more - for years. After beginning studies in music and law in 1975, he became musical director at Schauspielhaus Bochum a year later and then dropped out of college. He continued to act on stage and eventually in feature and television films.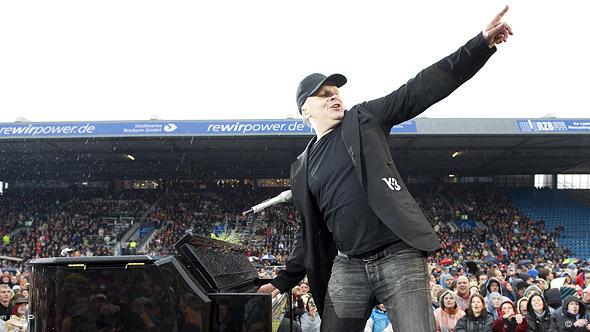 Grönemeyer performed with the Bochum Symphonic Orchestra to raise funds for a new concert hall
But music was the focus all along. Even with four albums under his belt, at concerts, Grönemeyer made sure to play his "butt off, so that no one would even leave the hall to grab a currywurst."
That favorite German snack, though, is exactly what helped Grönemeyer achieve musical fame. His 1982 track titled "Currywurst" - written by actor and comedian Dieter Krebs - was Grönemeyer's first big hit, and anchored the image of him as a rock poet singing praise to his native Ruhrgebiet.

He even titled his break-through album in 1984 "4630 Bochum," the number referring to his hometown's zip code. The singles "Bochum" and "Männer" (Men) shot Grönemeyer to stardom, while the song "Amerika" gave listeners a taste of some of the musician's own political views. That track was a commentary on the consequences of NATO's 1979 Double-Track Decision, which ultimately saw American Pershing and Cruise missiles being stationed on West German territory as of 1983 in a stand-off with the Soviet Union.
Grönemeyer's fans credit him with a knack for combining social, political and personal discourses, and his imaginative songs have won over masses of listeners. "4630 Bochum" became 1984's most successful album in Germany, and the singer followed it up with no shortage of record-breaking albums.
Herbert, the Mensch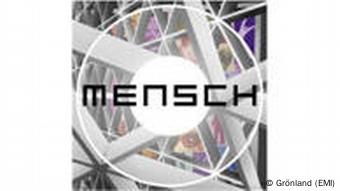 Grönemeyer's 2002 album "Mensch" was top-selling
But a series of tragedies a decade later put a damper on Grönemeyer's musical musings. Following the deaths of the pop star's brother and wife within days of each another in November 1998, Grönemeyer was incapable of writing songs and took a four-year hiatus.
Those deaths ultimately sparked a powerful comeback for the performer. "Mensch" was the first song he put out in the wake of his losses, and it became the title track for a 2002 album. With over 3.7 million copies sold, it became the best-selling album in German music history. The accompanying concert tour also sold out arena after arena.
His latest album, "Schiffsverkehr" ("Ship Traffic"), is another journey into the unknown. Inspired by a trip to Sweden, Grönemeyer presented a rock and electronic mix, with six bonus CD tracks in English.

Now edging towards 60, the singer and actor can look both back and forward to an outstanding career in the spotlight.
Author: Thomas Steinberg / als