The wooden house that was once home to Rosa Parks, the black woman who famously refused to give up her bus seat to a white person, is to go under the hammer in the US later this month.
Guernsey's auctioneers will hold a midsummer sale on July 25 & 26 that features several items related to African-American history and culture, including the tiny building.
National treasure
Arlan Ettinger, of the New York-based auction house, said the two-story structure, which the civil rights activist lived in for many years, was not much to look at, but is a "national treasure" for what it represents.
The wood-framed house, which once stood in Detroit, had been set to be demolished, until it was bought for $500 by Parks' niece, Rhea McDCauley, and donated to Berlin-based American artist Ryan Mendoza.
Read more: Of 'white guys on the Moon' and black America
He had the property dismantled and shipped to his home in the German capital where he reassembled it in his backyard.
The house drew hundreds of visitors until it was dismantled again, shipped back across the Atlantic, and put on display at a university in the US state of Rhode Island.
Mendoza has since been searching for a permanent home for the delicate structure, which he believes can probably only be rebuilt one more time.
"It's a wonderful way to present the house again to the American people. Let them decide what this house is worth," the artist said.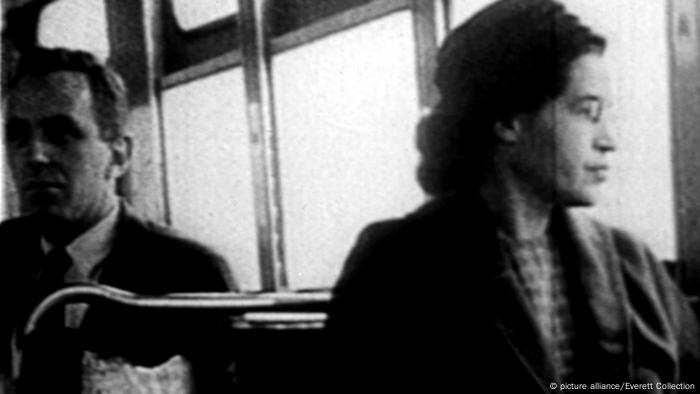 In December 1955, Rosa Parks' single act of nonviolent resistance sparked the Montgomery bus boycott
Read more: Black America through the lens: Gordon Parks exhibition opens in Frankfurt
Park's legacy fund to benefit
The proceeds from the sale will go in part to a foundation set up by McCauley to help preserve her aunt's legacy, Mendoza and Guernsey's said.
Parks moved to Detroit in 1957, two years after refusing to give up her seat on a bus to a white passenger in Montgomery, Alabama.
Her action inspired the local black community to boycott the local bus service for more than a year.
But she continued to receive death threats for many years after the incident, and was fired from her job at a local department store.
Her family says Parks stayed in the home — owned by her brother — along with 17 others relatives.
She went on to work with civil rights groups for most of the rest of her life. She died in 2005, aged 92.
mm (AP, dpa)
Each evening at 1830 UTC, DW's editors send out a selection of the day's hard news and quality feature journalism. You can sign up to receive it directly here.