Italian Olympic Committee president Giovanni Malago announced that the cycling, marathon, beach volleyball and archery competitions would be staged at Ancient Roman sites in the city. He cited venues such as the avenue leading up to the Colosseum, the Imperial Fora and the Circus Maximus.
He added that football, however, matches would be played in 10 stadiums around the country, while Cagliari, in Sardinia, would host sailing events.
Italian film composer Ennio Morricone would also be recruited to compose a hymn for the event.
The International Olympic Committee (IOC) is due to elect the host city for the 2024 Summer Olympics in September 2017. Budapest, Los Angeles and Paris are also in the running for staging the world's biggest sporting event.
Competition for sustainability
IOC President Thomas Bach said that the committee members were delighted to have four "extremely strong" candidate cities.
"Coming from different starting points, for all four there is a clear focus on sustainable development, legacy and in particular how the facilities are going to be used after the Olympic Games," Bach said in a statement on the IOC website.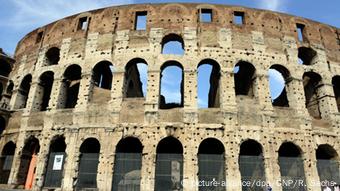 The Colosseum has been earmarked as one of the venues for the 2024 Olympics, if Rome wins the bid
The race to host the 2024 Olympics kick started on Wednesday with the four bid cities all presenting their initial candidature files to the International Olympic Committee (IOC). Rome believes that the stunning backdrop of some of its historical sites could offer a competitive edge.
A proposed budget for the Rome games forecasts 2.1 billion euros in spending for permanent structures and 3.2 billion euros for temporary facilities, running costs and overall management. Organizers stressed that only 30 percent of facilities needed to be built from scratch and that they expected to recoup 3.2 billion euros from ticket sales, merchandising, IOC subsidies and sponsors. Up to 177,000 jobs would also be created in the period leading up to the Olympics.
Call for a referendum
While the budget for the event was presented as being modest, there is widespread skepticism over the risk of corruption and overspending, which has become a recurring problem with public service delivery in Italy.
A group of smaller left-wing parties has called for a referendum on Rome's bid. Last year the German city of Hamburg withdrew from the 2024 race after residents voted against staging the Games.
Rome last hosted the Summer Olympics in 1960.
ss/kms (dpa, AFP, AP)