Romanian Prime Minister Mihai Tudose resigned on Monday after his own party abandoned him in an internal power struggle with the party's all-powerful chairman who, himself, is barred from political office because of a vote-rigging conviction.
The political battle in the Social Democratic Party (PSD) came into public view last week after Tudose called on his Interior Minister Carmen Dan to resign, accusing her of lying. She refused and sought the backing of party kingpin Liviu Dragnea.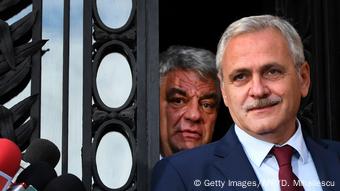 Liviu Dragnea (front) leads the PSD; here he is trailed by the departing Prime Minister Tudose
The party faithful rallied around Dragnea on Monday, forcing the prime minister to step down.
"The vote was overwhelming, to dismiss Prime Minister Tudose," one member of the PSD's leadership told Reuters by telephone.
Tudose, 50, said he was leaving "with my head high," and planned to clean out his office Monday night, just six months after taking office.
Tudose told reporters after the party vote: "I did not want to break the party. They named me, they removed me. I take responsibility for my deeds and I do not regret anything in my actions (as premier)."
Another power struggle
Deputy Prime Minister Paul Stanescu has been tabbed to take over the prime minister's post on an interim basis for 45 days. The PSD will have to come up with a replacement during the interim period. The next prime minister will also need the approval of Romanian President Klaus Iohannis, who has the power to reject a candidate.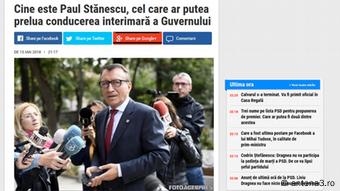 Tudose prevailed in a similar power struggle in October, when he demanded, and got, the resignations of two cabinet ministers. The party considered abandoning the prime minister then but hesitated because he had only been in power three months and did not want the country to be seen as racked by political instability.
Romania is considered one of the most corrupt countries in the European Union (EU). It remains under special monitoring from Brussels because of its lax control over financial accountability.
Separately, prosecutors froze Dragnea's assets in November amid a criminal investigation into the misuse of EU funds. The party boss denies wrongdoing.
bik/kms (AP, Reuters)