Thousands of anti-government protesters gathered in Bucharest's Victory Square on Sunday, forming the European Union's flag with sheets of blue and yellow paper and cloth - a signal of support for the bloc and its values.
Some 3,000 people rallied in front of the Romanian parliament building to demand the Social Democratic-led government step down amid accusations that it is trying to protect corrupt officials. Sunday marked the 27th consecutive evening of protests against Prime Minister Sorin Grindeanu's cabinet after it passed a decree last month that effectively decriminalized and eased penalties for some corruption offences.
At their peak, the protests were the biggest seen in the former Soviet state since the fall of Communist leader Nicolae Ceausescu in 1989.
Many protesters shouted "Resignation!" and "You thieves." Other carried and handed out pins that read "Resist."
Sunday's EU flagged echoed some of the earlier protests where protesters also formed a Romanian flag.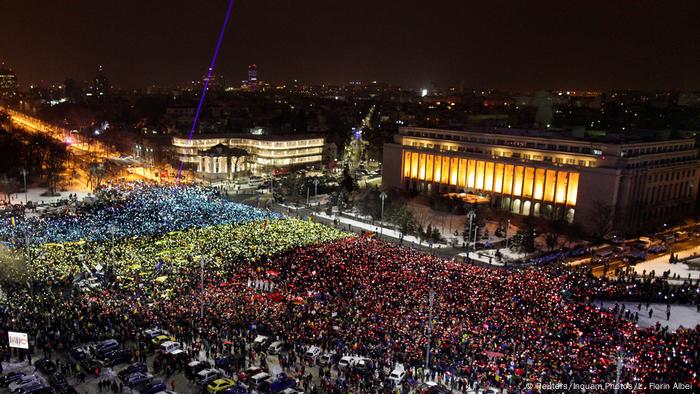 Thousands of Romanian protestors don't see their government as fit to rule.
Several hundred people on Sunday also protested in the Transylvanian cities of Brasov and Sibiu, as well as the western city of Timisoara.
The ruling coalition government has since repealed the controversial decree and reshuffled the cabinet, hoping to draw a line under the matter. However, those actions have done little to satisfy protesters as thousands continue to rally nationwide, demanding the government resign.
Grindeanu has stood firm, however, while his government survived a no-confidence vote earlier this month.
Romania's corruption problem
The European Commission last week published a report on the Romanian government's graft decree, saying that it would have reversed a decade's worth of efforts to curb to corruption since it joined the EU in 2004. Brussels also continues to keep Romania's justice system under special monitoring.
Transparency International, meanwhile, ranks Romania among the bloc's most corrupt states.
The Romanian government's rescinded decree has raised even greater concerns among Brussels officials that the country will be able to adopt and guarantee European standards in the near future.
dm/xx (AP, Reuters, dpa)