Roberto di Matteo has quit his post as coach of Bundesliga side Schalke 04, according to a statement on the club's website on Tuesday. There had been considerable media speculation in Germany on his impending departure leading up to the announcement.
In the statement, Di Matteo gives a number of reasons why he decided to end his work at the Royal Blues, including the fact that the club's management wants to "focus on different areas" to him in developing the team.
He also cited the current mood in Gelsenkirchen as a reason for moving on.
"The baggage of the second half of the season is so big and under these conditions, it would be hard to guarantee that we could return to the success that the club wants," he added. "For that reason, it now seems a new start is the best for all involved."
The 44-year-old had been in charge at the western German club since October 2014 after his predecessor Jens Keller was sacked. Di Matteo, who coached Chelsea to the 2012 Champions League title, had steered the Royal Blues up from 11th when he took charge to third in the table in February.
But a poor run of results as the season concluded saw Schalke surrender a direct spot in the Champions League and their latest defeat - a 2-0 loss to Hamburg - saw them finish their campaign sixth in the table, meaning they will only take part in the Europa League next season.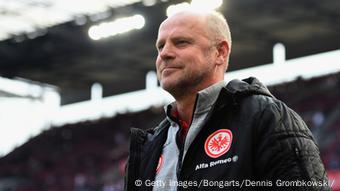 Thomas Schaaf asked Frankfurt to end his contract, which was due to run until next year
Schaaf to leave Frankfurt
Perhaps more surprising has been Thomas Schaaf's decision to leave Eintracht Frankfurt. The long-time Bundesliga coach - who stood on the sidelines for the 500th time this season - had asked the club to terminate his contract.
The team, which ended its campaign in 9th with 43 points, was one of the surprises of the season.
"We tried to convince him to reconsider his decision," said Frankfurt chairman Herbiert Bruchhagen on the club's website. "That's why we never spoke to any other coaches."
"We wish Thomas Schaaf all the best for the future and we will now start looking for his replacement."
In a written statement, Schaaf said that he "wasn't prepared to accept certain public comments, made through the media, about him and his work."
"That's why it's come to this decision," he said.
al/asz (AFP, dpa)