Mnangagwa departed Zimbabwe, reportedly for South Africa Wednesday, accusing Mugabe and his wife Grace of turning the ruling ZANU-PF party into property "controlled by undisciplined, egotistical and self-serving minnows."
Mugabe, in turn, told thousands of supporters in Harare that Mnangagwe, whom he sacked on Monday, had plotted to take over since 2014 when he became vice president.
Read more: WHO rescinds appointment
Until recently, the ousted vice president had been widely seen as a potential successor to the 93-year-old president.
"We have kicked him out for the same reasons that saw us chasing away Mujuru," said Mugabe, referring to Zimbabwe's predecessor, Joice Mujuru.
"People were told that I will retire in March but I did not. Upon realizing that I wasn't, he [Mnangagwa] started consulting traditional healers on when I was going to die," Mugabe asserted.
First lady Grace Mugabe, who last Sunday said she was ready to take over from her husband, told the same crowd: "No one will remove the president except God."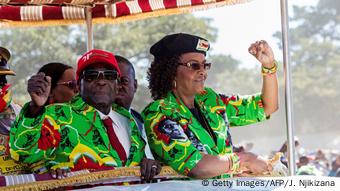 Ready to take over - Grace Mugabe (R)
"I love my president. I will help him to make the country prosper," said Grace Mugabe, referring to the once-prosperous nation.
Mnangagwa had been a close presidential ally since Mugabe took power in the 1980 independence fight against British and is still said to have close links with Zimbabwean generals and war veterans.
War veterans head Chris Mutsvangwa said the sacked vice president was safe and would travel to South Africa "very soon."
ipj/rc (AP, Reuters, AFP)