November 10, 2009 was a dark day for German football. News started spreading that Hannover 96 goalkeeper Robert Enke had taken his own life on the railway tracks in a suburb of the city. The goalkeeper was struggling with depression after his two-year-old daughter died as a result of a heart condition.
Enke's death has helped turn the spotlight on what was one of football's unspoken problems. Mental health in the game suddenly became an issue everyone was discussing, helping footballers speak out about their own experiences. The most recent example is former Liverpool goalkeeper Chris Kirkland, who publicly admitted he retired as a result of being "worried how close I was to the next step."
Watch: Depression in football - A DW Report
Kirkland's confession is part of a growing conversation about the effect the beautiful game has on footballers. Research carried out in 2016 by players' associated FIFPro found that 38 percent of the active footballers that were questioned were suffering from depression or anxiety, a twelve percent rise from a similar study from 2014. Nine percent of active footballers end up turning to alcohol, and the number rises to 25 percent when retired professionals are concerned - 65 percent of those surveyed said it has affected their football career.
Per Mertesacker remembers
But Robert Enke's death has affected more than just footballers. An organization founded by the German Football Association, the German Football League and Hannover 96, which carries the goalkeeper's name, helps in handling depression, as well as giving aid to children with rare heart conditions. Enke's widow Teresa is heading it and is a key figure in raising awareness of the dangers of mental illness.
Per Mertesacker, a player closely associated with Enke's Hannover 96, and a former team mate of the goalkeeper, wrote a short text of his account of Enke, and how his death affected him. In the text - published on the Robert Enke Stiftung (Foundation) website and titled "Memories of a friend" - Mertesacker recalls playing with Enke early in his career at Hannover 96. "He came from Spain, he played for Barcelona, and from the beginning he gave me the feeling that he appreciated me, the newcomer."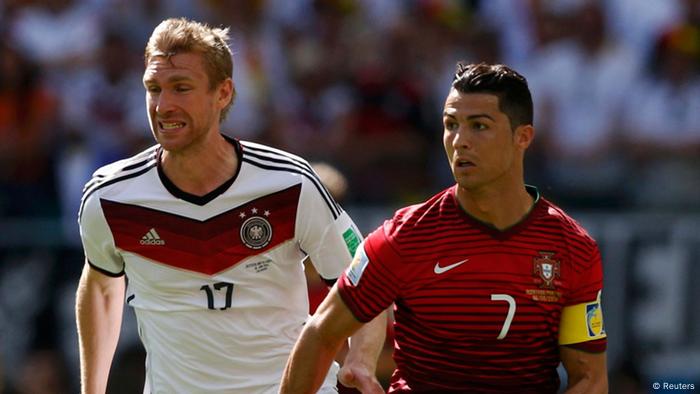 Per Mertesacker (left) played with Enke at Hannover
'You've got to talk'
The Arsenal defender says the death of Enke taught him a lot about mental illness. "When someone is acutely depressed, all they want is to hide," he wrote. Former England goalkeeper Kirkland said speaking out played an important role in his treatment. "I just want people to know that you've got to talk. I never saw a way out until I started talking," he recently said.
Mertesacker's comments demonstrate how Enke's death sparked the discussion over depression in football and made it mainstream. It's becoming even more common, meaning the goalkeeper's legacy is present in the daily lives of many people, footballers among them.