Robbers held up a post office inside the European Parliament building in Brussels on Friday, as European leaders met in a building a few hundred meters away.
The thieves took an amount thought be at least 8,000 euros ($10,900), with the raid representing the third robbery on businesses based in the building in the last two years. There were no injuries and it was unclear whether the two robbers were armed, European Parliament spokeswoman Marjory van den Broeke said.
A security zone set up nearby for a summit of leaders from the EU's 27 member states meeting for wide-ranging talks on the same day.
Action to address the situation was promised by President of the European Parliament Jerzy Buzek.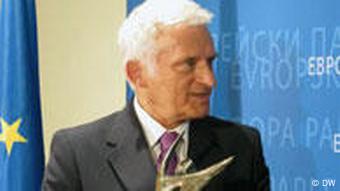 Buzek vowed to meet with officials to improve security
"Called for an extraordinary meeting of services," said Buzek in a post on Twitter. "Lack of security is unacceptable. Will ask for urgent action and improvement."
Euroskeptics deride security record
The parliament building's security record had been denounced as "farcical" by the euroskeptic conservative ECR grouping within the parliament. The grouping is comprised of parties that include Britain's ruling Conservatives.
"This is an absolutely disgraceful situation, not least on a day when there is a good possibility that EU heads of state and governments could be in the building," head of the British Conservative delegation Timothy Kirkhope said in a statement.
Post offices in Belgium function frequently have large sums of cash on hand, also functioning as retail banks.
Author: Richard Connor (AFP, AP, Reuters)
Editor: Sean Sinico