The tragicomic road movie "Vincent will Meer" also known as "Vincent Wants to Sea" won the Golden Lola for best German film on Friday night.
Florian David Fitz also won the best actor award for his portrayal of Vincent, a young man with Tourette's syndrome, who escapes from a clinic in search of the sea with his obsessive-compulsive roommate, and an anorexia sufferer. The film also did well at the German box office: more than a million people have been to see it at the cinema.
The best actress prize was given to Austrian Sophie Rois for her role in the latest Tom Tykwer film, "Drei," a drama set in Berlin about a couple who, separately, fall in love with the same man. Tykwer also won the best director award for the movie.
Other awards
But it was the historical drama "Poll" from Chris Kraus which gathered the highest number of awards. The film tells the story of a young girl growing up in the Baltic States before World War I, whose father carries out macabre brain research.
The jury gave Richy Müller the prize for best supporting role in "Poll." The film also scooped awards for camerawork, production, and costume design.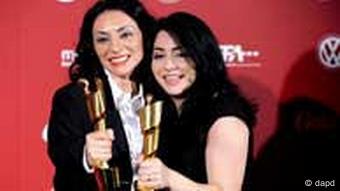 Sisters Yasemin (l.) und Nesrin Samdereli both won prizes
The comedy about Turkish immigrants, "Almanya - Welcome to Germany" by Yasemin Samdereli won the Silver Lola as runner-up in the best film category. The film was also honored for its screenplay, written by Samdereli and her sister, Nesrin.
Veteran German director Wim Wenders won the prize for best documentary for his 3D dance film, "Pina" in honor of the choreographer, Pina Bausch.
The annual German film prize is the most highly endowed cultural award in Germany, with roughly 2.9 million euros ($4.2 million) up for grabs in 16 categories. The winner of the Golden Lola alone takes home 500,000 euros. The award ceremony was held in the Friedrichstadtpalast in Berlin on Friday night, in front of an audience of 1,800 stars and celebrities.
Author: Joanna Impey (AP, AFP, dpa)
Editor: Sean Sinico