As the humanitarian situation keeps deteriorating in South Sudan, peace is far from near. According to humanitarian agencies there, hundreds of thousands of people continue to be displaced within Unity state while Upper Nile state is becoming the worst place to live.
"The needs are great. We are talking about basic needs here for all these people, in terms of food, clean drinking water and access to health care; these are humanitarian concerns in South Sudan," Layal Horanieh, spokesperson for the International Committee of the Red Cross in Juba, told DW in an interview.
According to Horanieh, since the conflict erupted, South Sudanese people have always been on the run and unable to go back to their daily lives. "We hear reports of extreme levels of violence, either sexual violence or other forms of violence. Not to count the dire economic situation that is a major concern," Horanieh added.
Many had thought that the latest ceasefire would ease South Sudan's misery and that peace would finally be restored. But reports of the violation of the ceasefire deal have made citizens and some experts to question whether the two rival leaders are really working on behalf of the people of South Sudan as they always claim.
The South Sudanese conflict started when President Salva Kiir fired his former deputy Riek Machar 20 months ago
"The peace agreement is a big challenge. This is the time for the leaders to rise above their narrow interests. Our people have suffered enough," said the leader of the opposition party, Sudan People's Liberation Movement for Democratic Change, SPLM-DC, Lam Akol.
Counter accusations
Speaking at a press conference in Addis Ababa, Ethiopia, on Monday, rebel leader Riek Machar said he is concerned that President Kiir's government is not respecting the latest peace deal.
"We have concerns that the ceasefire is not holding, and this is because the government is unable to control its own troops. First, the ground troops have been continuing fighting, particularly in Unity state," Machar said.
Fresh fighting erupted in Malakal, the capital of the oil-rich South Sudan region of Upper Nile state just hours after a new peace deal was brokered by the regional bloc IGAD, the United Nations, the African Union, China, Britain, Norway and the United States.
Both Salva Kiir's government and rebel leader Rieck Machar have been accusing each other of violating the truce. Colonel Philip Panyang Aguer, Spokesman for South Sudan Army, said "The rebels of Riek Machar violated ceasefire. They have been shelling [us], using artillery."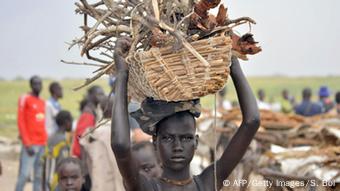 Around two million people are on the run in South Sudan
Rebel leader Riek Machar hit back. "There was fighting. We definitely blame the government troops. This is a violation of the cessation of hostilities agreement," Machar said.
But the army's spokesman Philip Panyang Aguer denied the accusation. "First of all, there is no (army) force operating in that area." Aguer also accused the rebels of giving false statements.
"We want IGAD to station monitors in all the counties so as to monitor and see who is violating the ceasefire instead of us answering to the international media on fabrications by the rebels," Aguer said.
The newest nation was plunged into a civil war in 2013 when President Kiir sacked his deputy Riek Machar, accusing him of planning a coup against him. Since then about two million people have been displaced and thousands have been killed.
Under enormous pressure by the international community, President Kiir on Wednesday signed a peace agreement together with the cease-fire but also indicated that he has some reservations about the agreement. Rebel leader Riek Machar signed the very document a week before in Ethiopia.
James Shimanyula contributed to this report.