Regional newspaper "Express," football magazine "Kicker" and Germany's Sky Sports on Friday all reported that the rumored Max Eberl move to Bayern Munich was definitively off the table. According to the reports, Eberl would even sign an early contract extention with his current club in a bid to silence the reports.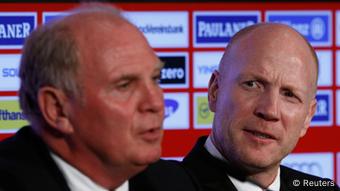 Sammer's retired, Hoeness' role is tough to define - what's clear is that Bayern currently have no sporting director
Borussia Mönchengladbach's sporting director had emerged in recent weeks as the supposed front runner to replace Matthias Sammer on Säbener Strasse. Sammer retired in July 2016, and the position is currently vacant. Uli Hoeness, back in the saddle as club president after his stint in jail for tax evasion, is broadly seen to be pulling the strategic strings while the position is empty.
Bayern first tried to tap their retiring club captain, Philipp Lahm, to take up the role in the summer. Lahm later told German broadcaster Sport 1: "At the end of the talks I decided that the time is not right to join up at the end of the season.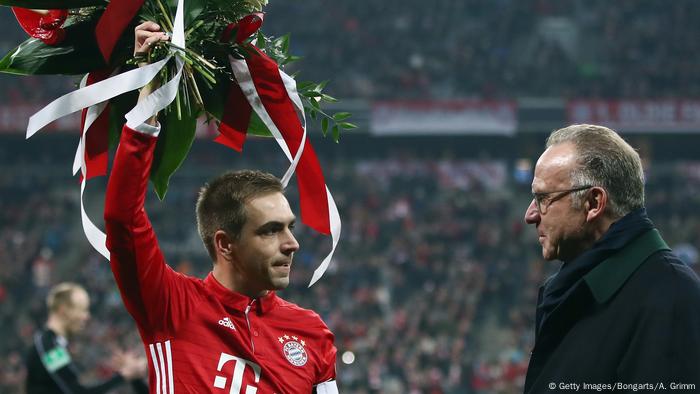 Chairman Karl-Heinz Rummenigge was hoping to immediately recruit Philip Lahm for a backroom role after retirement
Eberl, an occasionally outspoken 43-year-old functionary with one of Bayern's historic rivals, had never given very much credence to his rumored move anyway.
"There is no offer. I have a contract in Mönchengladbach and nothing has happened. There's no need for ultimatums, there's nothing to it, as I'm saying for the umpteenth time. The current situation is that I will be in Mönchengladbach this summer," Eberl said, not without a little irritation, two weeks ago. However, observers still argued that his choice of words, stressing there was no concrete offer, had left him wiggle room in the event of less formal talks.
Eberl has been in control of the hiring and firing at the Borussia-Park since 2008 - a relatively successful period for the Foals. He joined as Gladbach were a so-called "yo-yo" club, just returning to the top flight after relegation. In recent years, the Foals have again established themselves as a relatively regular contender for the European places in the Bundesliga. The current campaign, however, has not ran so smoothly - Gladbach sit 10th in the table with just nine league matches remaining to improve that position.
msh (dpa, SID)