The report by the International Federation for Human Rights (FIDH) investigated cases of sexual violence committed by Egyptian security forces from July 3, 2013, when former President Mohamed Morsi was ousted by a coup led by then-military chief and current President Abdel-Fattah al-Sissi, until the end of 2014.
A separate UN Women report from 2013 found that 99.3 percent of women in Egypt had suffered from sexual harassment or assault.
The FIDH report went a step further, however, arguing that Egypt's security forces systematically use sexual violence as a way of quelling opposition figures and activists, or even as a means to inhibit investigations.
Children are also targeted by sexual violence perpetrated by security forces, with the report saying that "anyone who hasn't been raped is the exception." More than 500 children have been detained for political reasons since 2013.
"Since the overthrow of Mohammed Morsi, under the pretext of a 'war on terror,' the security forces have embarked on a campaign of widescale repression of political opponents, actively supervised by the army, using sexual violence to crush, torture and humiliate," the report said.
One woman, a student at Egypt's religious Al-Azhar University, a flashpoint for pro-Islamist protests, describes in the report intervening as police were sexually assaulting another woman. Following the confrontation, she was placed into the back of a police van and was subsequently raped by three police officers.
Lethal impunity
Despite initiatives in 2014 meant to implement stricter disciplinary actions against sexual crime offenders, little has occurred.
One man was sentenced to three years in prison in 2014 after allegedly filming a woman on a public bus with his camera phone. Another seven men were charged and sentenced a few weeks afterward.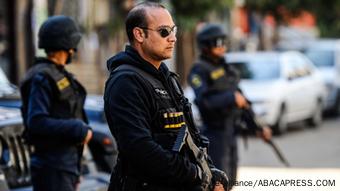 Security forces, too, were accused of regular offenses
However, few cases have been filed under a law initiated in 2014 by interim President Adli Mansour, which defined sexual harassment for the first time in Egypt's modern history.
When incidences of sexual violence occur, Egypt's interior ministry has made it a priority to discourage complaints, at times even detaining people who file such complaints. Activists allege that security forces effectively act with impunity.
"The state has not shown signs that they are willing to make any reforms regarding the Ministry of Interior. In fact, the police have been enjoying a very high level of impunity for the crimes they have been committing for the past few months, starting from June 30. Whether it's killing, torture or whatever else, also including sexual violence against men, women and minors, whether in police custody or outside of it," Dalia Abd el-Hammeed, the gender and women's rights officer at the Egyptian Initiative for Personal Rights, told DW. "The impunity is lethal."
'Political detainees'
El-Hammeed also noted that an increase in sexual violence could be observed alongside a general increase in criminal activities perpetrated by the police since 2013.
Nicholas Piachaud, North Africa researcher at Amnesty International, echoed El-Hammeed's sentiments, adding that despite the increase in political detainees, all women are at risk of sexual violence in places of detention.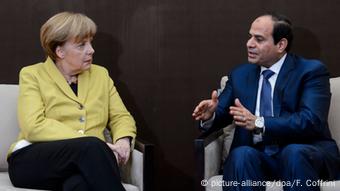 Despite Egypt's issues, Chancellor Angela Merkel will again meet Egyptian President Abdel-Fattah al-Sissi in June
"Because there are many more political detainees in Egypt since Morsi's ousting, probably more than there have been in decades, we are seeing an increase in reports of sexual violence," Piachaud said. "But what our research has found is that all women detainees are at risk of sexual violence in detention, regardless of whether they are political detainees or women accused of what you might consider ordinary criminal offenses."
Piachaud added that Egypt's authorities have "determinedly" shut off "every avenue" for survivors of sexual violence.
"Our research found that violence against women in Egypt is everywhere. It's in the streets, it's in homes, and it's in places of detention. Women face the threat of violence and sexual violence wherever they go, and the authorities are just not doing enough to combat that," he said.