Myrna Troncoso still tears up when she looks at a photo of her brother. Ricardo Troncoso Munoz, a follower of Chilean President Salvador Allende, was arrested by Augusto Pinochet's regime in 1974. Evidence suggests, Troncoso said, that he was taken to Colonia Dignidad,the headquarters of a German-founded cult and a notorious torture site. He was never heard from again.
Troncoso has come to Berlin to ask for help in getting some closure to her family tragedy.
"For me it's the source of a huge amount of pain," Troncoso told DW. "It's incredible important to me to find out what his fate was, how and where he died, so that I have a place to grieve."
Colonia Dignidad, a 137-square-kilometer (53-square-mile) settlement about 400 kilometers (240 miles) south of Santiago de Chile, was founded by Germany's Paul Schäfer and was the site of hundreds of atrocities, including child abuse.
The German government has pledged to establish a memorial and help survivors and family members of victims. But, until recently, not many people in Germany wanted to know the dark story of what happened at the colony in Chile.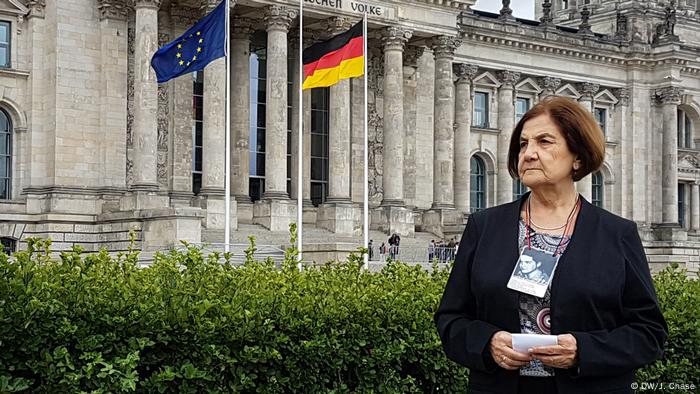 Myrna Troncoso lobbied Bundestag deputies to ensure that Germany keeps its promises
Site of horror
Schäfer, who had run a children's home in Germany, fled following accounts of pederasty and sadism. He founded the colony in 1961 with some 200 followers. His mission, he claimed, was to establish a site of "original Christian life in the promised land," believing that Germany was about to be invaded and destroyed by the Soviet Union.
A number of kidnapped children were taken to the colony, where they were sexually abused and subjected to forced labor. Schäfer and the other settlement leaders established contact with right-wing extremist Chilean groups, and, after the putsch by the Chilean military in 1973, Pinochet used the remote location as a site to torture and kill enemies of his regime.
In 1991, the Chilean government revoked the colony's status as a charitable organization, and in 1997 two young people succeeded in fleeing the settlement for Germany, where they told their stories. But government officials, including the German ambassador to Chile, preferred to ignore the tales of horror.
Schäfer disappeared in 1997 to avoid facing charges of sexually abusing children. He was tried in absentia and found guilty in 2004. It wasn't until 2005 that Schäfer was arrested. After he died in 2010, the colony was put under the official administration of the Chilean state to ensure that it would pay its $1.5 million court-ordered compensation to victims. But 140 members of Schäfer's cult still live at the site, and a Bavarian-themed hotel operates within the settlement where hundreds of people were abused and murdered.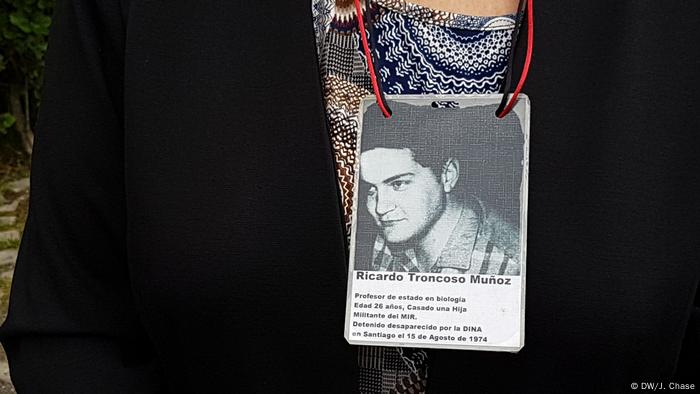 Ricardo Troncoso Munoz was one of the many disappeared in Pinochet's Chile
Bundestag demands action
In an admission that Germany, too, bears responsibility for crimes committed at the colony, Frank-Walter Steinmeier, then the foreign minister, opened government records going back over 20 years on Colonia Dignidad to the public in April 2016.
Last June, members of all the parties in the German parliament passed a resolution giving the government a year to come up with plans to investigate the history of the colony, establish a memorial, and offer assistance to victims and family members.
On Wednesday, Myrna Troncoso met with leading Bundestag deputies, who said afterward that they intend to enforce the June 30 deadline.
"We're going to establish a commission of ministry representatives and eight members of parliament," Renate Künast, of the Greens, told DW. "It will evaluate the various proposals and decide on concrete criteria for a model of what we want. This all has to be anchored in the 2019 budget, so the clock is ticking."
The initiative has support across the political spectrum in the Bundestag.
"After the German government's acknowledgment of shared moral culpability, it's time for actions to follow words," Michael Brand, of the conservative Christian Democrats, told DW. "The German Bundestag is applying pressure across party lines. We want to see an aid plan by June 30."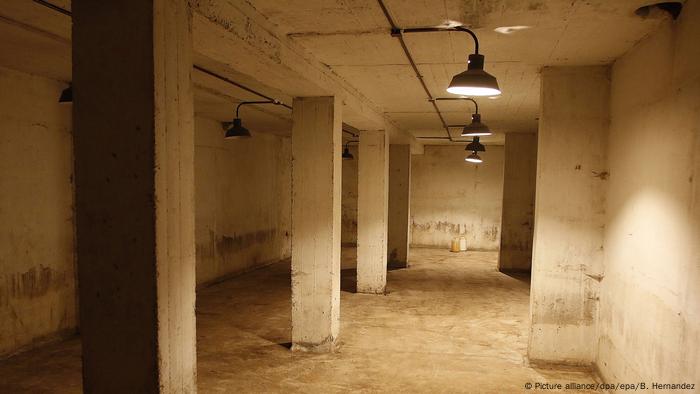 Basements at the colony were used to torture critics of Pinochet's regime
Torture tourism?
Addressing the crimes of the past requires coordination across the Atlantic between Germany and Chile, which may help explain why Angela Merkel's government has made less progress than some would like. Troncoso, who heads a group representing families of Colonia Dignidad victims, has come to Berlin to see that the issue doesn't get put on the back burner.
"We want to see concrete measures taken," Troncoso said after meeting with Künast, Brand and other Bundestag deputies. "We talked over a lot of open questions and discussed possible solutions. Now it's time to turn the proposals into reality."
In particular, Troncoso said, Germany and Chile should work together to change the current form in which the colony exists.
"Right now, Colonia Dignidad is a place for tourists," she said. "The past isn't brought up at all. That's incredibly painful. I want both governments to help close down this tourist location and prevent any more parties from being held there. Instead it should be turned into a memorial site."