Refugees who arrived in Germany last year have not yet benefited from labor market growth in Germany. On the contrary, initial statistical analyses have shown that recognized refugees from Iraq and Syria experience disproportionately high rates of unemployment.
This is a key result of "Data Report 2016, a social report for the Federal Republic of Germany" released on Tuesday in Berlin. Statisticians and social scientists have calculated figures on subjects regarding different aspects of living in Germany. The Federal Statistical Office (Destatis), the Federal Agency for Civic Education (bpb), the Berlin Social Science Center (WZB) and the German Socio-Economic Panel (SOEP) at the German Institute for Economic Research (DIW Berlin) publish the data report.
Labor market integration poses a challenge
"The results indicate that there will be major challenges in the coming years with regard to labor market integration for refugees," says Mareike Bünning, director of studies at the WZB in Berlin. Although recognized refugees have not been acknowledged as a single group in the official statistics, researchers were able to put unemployment figures for the refugees' country of origin in relation to jobs with mandatory social security benefits.
There are an equal number of employed and unemployed refugees from Iraq. The majority of recognized refugees from Syria is unemployed. Compared to mid-2011, the situation for the main refugee groups has significantly deteriorated. According to statisticians, this finding markedly contrasts the generally positive trend in the German labor market.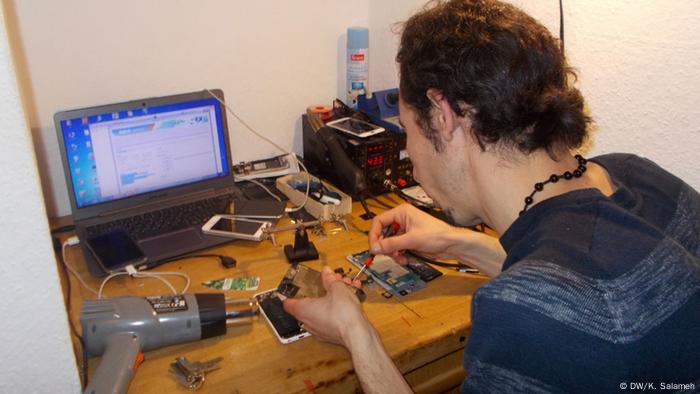 Refugees have a very hard time finding work in Germany
Poor education, poor earnings
In the 2016 data report, the situation of the approximately 16.4 million people with an immigrant background in the German labor market was examined. According to the report, newcomers from Turkey and Non-EU Europe are at risk of poverty. Since their education level is lower, they earn less.
Yet exactly the people in this population group are especially satisfied with their lives. "The immigrants compare their lives in Germany with their lives in their countries of origin and they mostly view their situation as positive," says the researcher Mareike Bünning.
The group of immigrants from Non-EU Europe or their descendants makes up 3.7 million people. Another 5.9 million belong to the group of what is known as the "guest workers" and their families who immigrated to Germany in the 1950s and 1960s. There are also 4.2 repatriated people of German origin from Central and Eastern Europe.
According to the data report, one in five residents in Germany has an immigrant background. Among the younger ones, the impact of immigration is most obvious: Even before the mass influx of refugees in 2015, every third child in Germany had at least partial roots in a foreign country.