Some 30 police officers and 50 firefighters were deployed to the refugee home in the Bavarian city on Bamberg after a blaze was reported overnight on Wednesday. The fire claimed the life of an asylum seeker, with at least 14 others suffering smoke inhalation.
"Emergency services discovered a lifeless body in the apartment," a police spokesman said. The victim has not yet bet identified.
The police have opened an investigation. Initial information seemed to indicate that the fire started inside the victim's room on the ground floor of the building that currently houses 163 people.
Read more: The number of homeless people rises by 140 percent in Germany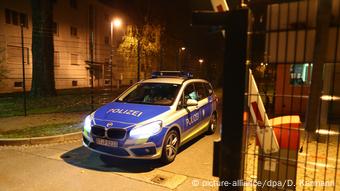 The building is part of a larger compound that has once been used to house US troops stationed in Germany. Around 1200 refugees are currently situated in the Bamberg center.
Firefighters were able to quickly extinguish the fire.
While the cause of the blaze remains undetermined, refugee homes all across Germany have been targeted in xenophobic incidents, including arson attacks, in recent years.
Read more: Refugee centers in Germany suffer near daily attacks
Police across Germany noted 234 attacks on refugee shelters since the beginning of the year until 23 of October. The number is still significantly smaller compared to 2015, when attacks on detention centers peaked at 1,031 for the full year.
dj/rc (AFP, AP, dpa)