DW: Making refugees republicansThe German population is growing with Berlin: Six more months of EU border controlsthe arrival of refugees. Is that Jobs for refugeesa long-term blessing for the economy and public coffers? Or will it cost us dearly in the end?
Dorothee Schulte-Basta: The challenge of admitting refugees appears to be manageable on a purely financial level. This becomes especially evident when comparing the cost of demographic change. We have calculated different scenarios in our study. Even in the worst possible case of deficient integration, a maximum additional cost of 86 euros ($100) per capita and per year would arise. The costs incurred by debt and an aging society have already reached 1,154 euros per capita and per year.
Many people arriving as refugees are poorly trained if they are trained at all. Will this group be qualified for work in 10 years?
We did not calculate like that. We used the data registry of the Federal Office for Migration and Refugees (BAMF) from 2008 as a basis and compared it with the German population. We also compared the education and training levels of the existing population with those of the refugees. We assumed that refugees are at least as well-qualified as locals with lower skill levels - meaning without having completed proper training programs.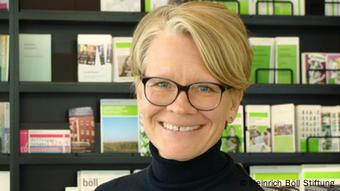 Dorothee Schulte-Basta researches social policy at the Heinrich Böll Foundation in Berlin
What we do know is that among those who come here, 35 percent have a high school diploma or university degree. This ratio relates to professional training. BAMF data has helped us a great deal. There are differences based on origin. For instance, 50 percent of Syrian women and men have a university degree or high school diploma. Of course, many have no education. When it comes to vocational training, one cannot assume that the majority have completed training, as they have here in Germany. That must be said clearly.
More than 1 million refugees came to Germany in 2015. The number will likely be fewer this year and next. Must 2015 remain an exceptional year so that the original humanitarian aid becomes a long-term gain for the economy, state and society?
That is hard to forecast. How many will come in 2016? How many will remain? We cannot predict anything. That is why we have chosen 2015 as a scenario. The basis for our calculation was 1 million refugees who come and stay.
What must politicians do to promote German officials laud new integration lawthe fastest possible integration and thus enable Start with a Friendrefugees to acquire professional qualifications?
They must be really fast. And massive political intervention in favor of qualification is needed - now. Our study shows that professional qualifications is the most important factor in enabling humanitarian immigration to contribute to public finances. It is even more important than the speed of the integration process. It is crucial that people are sufficiently qualified, meaning that they have achieved the qualification level of the local population. The right issues are already being discussed. The important thing is quick and massive intervention. It pays off.
The interview was conducted by DW's Volker Wagener.