Every year on February 12, the Red Hand Day Initiative collects handprints in its campaign against the deployment of children in war zones. The handprints are literally imprints of hands on paper or textiles, such as T-shirts. With this symbolic act displaying the size and shape of their hands, people all over the world show their opposition to the recruitment of children for armed conflict.
Antje Weber from the German aid organisation Kindernothilfe says on hearing the term "child soldiers," many people immediately think of a child brandishing a weapon. But that is only part of the picture. "There are many child soldiers who are not armed, they serve as spies, cooks, or in some other capacity," she said.
Sudan, South Sudan, Somalia, Chad are just a few of the countries in which children have been forced to fight in civil wars in the recent past. When rebels captured large swathes of the Central Africa Republic in December of last year, there were reports that children were involved in the fighting. "That is something we cannot accept," declared Leila Zerrougui, the UN Secretary General's Special Representative for Children and Armed Conflict, in a press release.
Children sold by relatives
In West Africa, the conflict in Mali is giving special cause for concern. The rights group Human Rights Watch is convinced that the Islamist groups have been forcing hundreds of children to work and fight for the Islamist cause.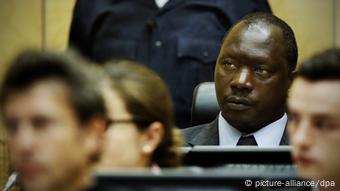 Thomas Lubanga was given a 14 year jail term by the International Criminal Court in July 2012.
Tuareg rebels in northern Mali have been fighting for independence from the south for decades but they never made significant use of child soldiers, said Corinne Dufka, senior researcher in Human Rights Watch's Africa Division. But that changed drastically when the Tuaregs started to seize northern Mali with Islamist support. "The children were apparently handed over by more senior members of their families to the Islamist groups in exchange for sums of money," Dufka said. "The Islamists tended to focus on villages where a hard-line brand of Islam was enforced," she added.
When the rebels came close to taking the Malian capital Bamako in January, France intervened, giving military support to the Malian army. In some instances, the Islamists deliberately placed children in the firing line. According to Dufka, eye-witnesses reported seeing children in the vicinity of the Islamist military camp in the northeast of Gao shortly before French airstrikes started. The fate of many of these children is unknown.
Even if the children were able to escape with their lives, their experiences in the conflict zone will never leave them. Former child soldiers suffer not only from the psychological consequences of conflict, but also from the years of neglected schooling or job training.
Support from Trust Fund for Victims
Eric Mongo Malolo from the Democratic Republic of Cingo is familiar with the problem. Ten years ago Ituri province in the northeast of the country was the backdrop to a bloody civil war and Malolo, together with his NGO "Afya", is endeavoring to help children who returned from that conflict. His assistance is not always well received. "Society seems to think that we are rewarding the culprits," he said. Much persuasion will be needed in village communities before these children are accepted back into the fold.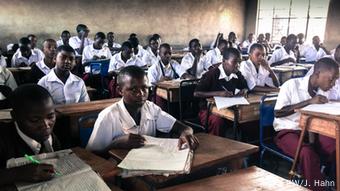 Child soldiers miss out on schooling and job training
So far Malolo's NGO has been able to provide assistance to 520 former child soldiers since the project started three years ago. The NGO belongs to a network called Haki na Amani, meaning justice and peace, and is supported by a fund at the International Criminal Court.
The Trust Fund for Victims was set up in 2002 and now has 1.2 million euros ( $1.6 million) at its disposal for the compensation of war crimes victims. The money is being disbursed to various projects and regions.
Compensation for Lubanga's victims
The International Criminal Court ordered the payment of compensation to victims for the first time in August of last year. The ruling says that the Trust Fund for Victims should support victims of convicted Congolese war criminal Thomas Lubanga. They include numerous children from Ituri province, who fought for Lubanga's rebels ten years ago. Human rights organizations see the court's ruling as setting a welcome precedent.
Eric Mongo Malolo is also pleased that his organization could be about to benefit from further funding. Nonetheless he fears that the court's decision could lead to quarrels and disputes. "Everybody in the region was affected, everybody was, in one way or another, a victim," he said. When compensation is handed out, you are compelled to ask "who receives it, who does not and who takes that decision?"
Nonetheless Malolo concedes that the Trust Fund for Victims is a great help for his organization. He will now be able to provide long-term care and counseling for former child soldiers. "One child that returned had been treated very, very brutally, We decided to teach him sewing. Today he has his own sewing machine and passes on his sewing skills to other children."