Following months of round-the-clock curfews and military operations to remove Kurdish militants from the Turkey's southeast, once vibrant urban centers in the region have been left barren, their streets marked with bullet holes, rubble and yellow "for rent" signs taped onto shuttered storefronts.
Fighting reignited after the collapse of a two-year ceasefire between the Kurdistan Workers Party (PKK) and the state last summer, causing hundreds of deaths and severe damage in cities such as Diyarbakir, Cizre and Nusaybin.
While targeted bombings persist on police positions and many areas remain off-limits to the public, widespread urban warfare has mostly subsided and Turkish Prime Minister Binali Yildirim used the lull period on Sunday to unveil a $3.4-billion (3 billion euros) reconstruction plan for cities most impacted by the fighting.
"Instead of houses destroyed by the PKK we are building beautiful houses," Yildirim said in a press conference.
Speaking from Diyarbakir, the largest city in Turkey's Kurdish-majority southeast, Yildirim said the government would rebuild 67,000 homes in 23 of the region's cities, and laid out plans for new factories, hospitals, sports stadiums and 51 police/military security stations.
Watching the speech from Diyarbakir's historic Sur district, a UNESCO world heritage site that sustained some of the heaviest damage, local business owners said they welcomed state investment, but expressed concern over the feasibility of economic recovery amid ongoing fighting, while residents raised fears of mass displacement as a result of the reconstruction.
'Counting the days'
Murat Beyaz, who's owned an electronics shop in Sur since 2003, said he had to shut down his business for more than three months and has struggled to make rent ever since reopening earlier this summer. Foot traffic has dwindled, he said, due to police checkpoints encircling the neighborhood, where all who enter are searched.
"Before, people would come here first when they needed something because we have the best prices," Beyaz told DW. "Now they go to other parts of the city, and only come here if they can't find what they are looking for elsewhere."
Beyaz said he expects business to pick up again after the reconstruction, but for the time being, he is surrounded by vacant shops and is considering selling his store because he can't hold on much longer.
"Everyone is suffering financially right now," he said. "We are counting the days. It's not worth staying."
Around the corner, Bilal Erdin is thinking the same. A third-generation coal salesman whose family shop has helped locals heat their homes since the 1950s, Erdin said he would sell his store without hesitation.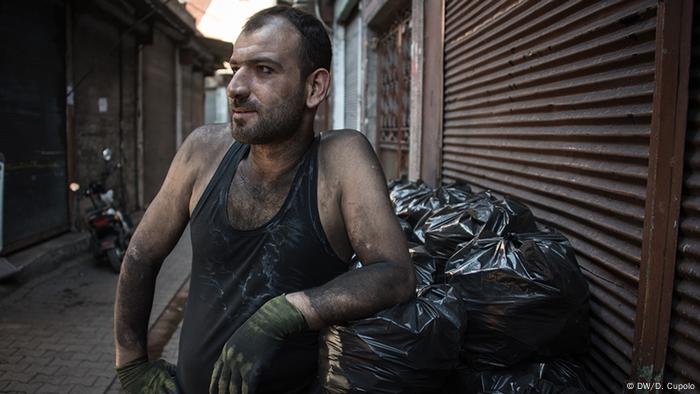 Shop owners like Erdin say they might need to sell their business to be able to survive financially
"You can't imagine how hard it's been," Erdin said, whose father also wants to leave the neighborhood. "We had a big house, with seven families inside, and courtyard, but my father won't go back … [because] our neighbors are all gone."
Fears of gentrification
When gun battles were a daily occurrence in Sur and Turkish tanks decimated historic buildings used as hideouts by Kurdish militants, then-Prime Minister Ahmet Davutoglu soothed critics by saying the neighborhood's distinct architecture would be restored after military operations to rival tourist destinations like Toledo, Spain.
During his speech on Sunday, current Prime Minister Yildirim promised $644 million for repairs in Sur and Diyarbakir alone. The reconstruction, he said, would follow new guidelines aiming to preserve the district's historic character, including a ban on buildings higher than two stories.
This is cause for concern in Sur, a neighborhood of an estimated 120,000 residents, where countless multi-story apartment buildings now mark the skyline. A downsizing of such buildings, combined with war damage in the district, has led long-time residents to believe they will no longer live in the neighborhood.
Those who lost their homes to the fighting have been offered subsidized apartments in high-rises outside the city center, but people like Seher Yasar, a 20-year-old Sur resident, said her family won't move.
"Their goal is to divide districts where Kurds have the most solidarity, like here and in Cizre," Yasar said. "Even if they reconstruct, they won't let the people of this neighborhood live in the new buildings and create communities like the ones we had before."
Speaking in front of a house she rents with her older sister, Yasar said no one went hungry in her old neighborhood, which is in the part of Sur still closed to the public.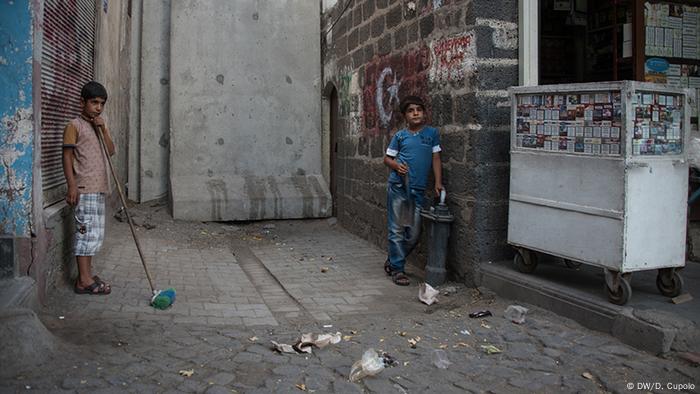 Parts of Sur are still heavily damaged and off limits to the public
"If someone lost their job, we would feed them," she told DW. "Then when we needed help, they were there for us … This is what are losing. It's not just about our houses."
Waiting for Peace
Yildirim's reconstruction plan is not the first attempt taken by the government to quell unrest in the southeast with the injection of cash. The region, historically underdeveloped in comparison to Western Turkey, has long been the site of conflict between its 15 million Kurdish residents and the state, which for decades did not recognize the ethnic group and banned the Kurdish language.
According to Kadir Karagoz, onwer of Sur's Huneria art gallery, it is the ongoing ethnic tensions that slowed economic development in the region, and not just a matter of funding.
Karagoz had no doubts Sur, with it's volcanic-black castle walls, would become a tourist destination, but said the fighting had to end before real progress could be made.
"I was living my dream before the war came to Sur," said Karagoz, who lost $30,000 in merchandise during the curfews.
When asked whether his business was booming back then he had a rather sober response: "No, because people showed they could live peacefully in the same country," he said, referring to the now failed ceasefire between 2012-2015.