The broken metatarsal that Borussia Dortmund midfield ace Shinji Kagawa suffered while playing for Japan at the Asian Cup in Qatar may end his season. But given that his club have built a commanding lead in the Bundesliga, it shouldn't be enough to derail the club's title hopes. It might, however, help re-open the debate on boot technology.
Some coaches, as well as physical trainers, argue that today's footwear is too lightweight to protect the tops of players' feet from impact. They also say that the traction modern boots provide - whether in the form of studs or blades - can cause players' feet to get stuck too snugly in the turf, which shifts G-force loads to bones and joints unable to handle them.
Sir Alex Ferguson, manager of English Premiership giants Manchester United, for example, has banned his players from wearing lightweight, bladed boots - those with cleats with a flat or oblong shape meant to grip in several directions, rather than traditional round ones.
The studs-versus-blades debate has been raging since the technology first became widely available in the 1990s. However, rather than purely blaming the blade cleats, some sports scientists suggest that it is a combination of the new traction systems, increasingly lightweight upper design, and simply the rewards at stake which are contribute to the current injury list.
Boot technology one of a number of possible factors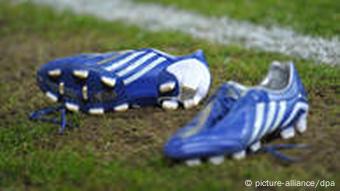 Boots with blades may be only one of many injury factors
"We see high training and competition intensity as well as the soccer boot design as potential risk factor for overload problems and for acute injuries," Professor Markus Walther, head of department for foot and ankle surgery and vice chairman at the FIFA Medical Center Schön Klinik Munich-Harlaching, told Deutsche Welle. "To beat the competitor, all kinds of professional sports get closer and closer to the biological limits of the human body. This always includes an increased risk of injury."
"Besides shoes, the focus of our research into these injuries also includes training practices, changes in the game itself and changes of rules or playing surface."
Stuart Mills, the manager of PhysioRoom.com, a consultation service for sports injuries, does not rule out the possibility that blade technology plays a major role in the current spate of nasty injuries sustained by soccer stars but concedes that there is a lack of hard scientific evidence to fully support a definitive conclusion.
"Recent statistics indicate that around 30 percent of all long term soccer injuries relate to the metatarsal bones - that connect the upper foot and heel to the toes - and some experts believe this could be due to the unique nature of the blade set-up," Mills told Deutsche Welle.
"These boots have been found to unnaturally increase loading under the lateral half of the foot which will predispose it to metatarsal injury but, saying that, there is a lack of real quantifiable analysis so we are left to try and understand the little data we do have to help us form an opinion devoid of any bias."
The boot manufacturers themselves appear to be taking advantage of the fact that there is no definitive case for or against blade traction systems in the current injury debate.
Manufacturers continue to experiment with safety in mind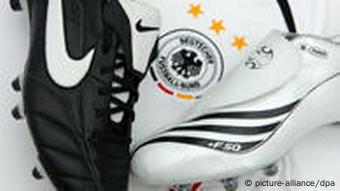 Both Nike and Adidas have seen their stars suffer injuries
Sports giants like Adidas and Nike continually adapt their boot technology towards player safety as well as performance, but they stop short of acknowledging that any changes are inspired by the possibility that previous designs could have contributed to injuries.
After coming under scrutiny through high-profile injuries to endorsed stars such as Wayne Rooney, Cristiano Ronaldo and Franck Ribery, Nike has opted for hybrid configurations of blades and traditional studs in their latest range, designed to optimize stability, control and speed but also allow for natural loss of grip such as sideways impacts and tackles. This removes the risk of the foot getting stuck in the playing surface, a common argument used against blades.
Adidas, whose boots Kagawa wears, has seen foot or ankle injuries to the likes of David Beckham, Michael Ballack and Stefan Kiessling, and have also adapted their cleat formations to include traditional studs for the very same purpose. Kagawa's Adizero boots, for example, use a mixture of triangular and diamond-shaped cleats
Neither company responded to telephone calls or emails from Deutsche Welle in regard to the claims that blade configurations they previously used on their soccer boots may have contributed to injuries.
Responsibility, risks and advantages
There is currently no law within the sport governing which type of boot a player can wear. Players simply weigh their own preferences with the wishes of their endorsing boot supplier when choosing what to take to the field in.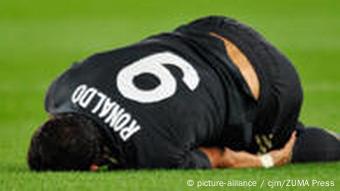 Players and coaches must weigh up the pros and cons
Claire Callaghan, a sports physiotherapist at the University of Bristol's Sports Medicine Clinic, believes that this lack of regulation means it's the player's club's responsibility to look after what the squad is putting on its feet.
"Coaches need to weigh up the risks versus benefits for each particular player," she told Deutsche Welle. "For example, does this player need to risk gaining a small increase in speed and agility by wearing a lightweight boot? This is particularly relevant when returning from injury."
At elite level, where the difference between success and failure can determine or shape a career, minute changes in boot configuration can be literally a make-or-break matter. With that in mind, Stuart Mills said soccer at the highest level may be heading toward "a personalized boot, offering the appropriate levels of performance pertinent to a specific game, surface - maybe even opponent."
Still he said, customized footwear doesn't mean a sport rid of all foot and lower leg injuries. And that's fine. Most players "seem prepared to trade off the risks of injury in their pursuit of hero status" anyway.
Author: Nick Amies
Editor: Matt Hermann