"People come here, then, to live? I should rather have thought that they came here to die."
Only can hardly believe it, but Rilke was writing about Paris, the dazzling fin-de-siècle cultural metropolis. But none of that glam and glitter can be found in his novel. Instead, one encounters a juggernaut, a stony sea of anonymity — loud, gray, daunting. In the midst of it all is a young Dane with no money, the offspring of an old noble family, who tries to define himself as a poet in Paris.
Moloch of terror
He hardly even notices the beauty of the city on the Seine with its wonderful parks and impressive architecture. Instead, Malte Laurids Brigge sits alone in his room, listening to the sounds of the street outside, and is scared — scared of life, and of his own dreams.
The speed of progress
When Rainer Maria Rilke completed his only novel in 1910, one he had started writing six years previously in Rome, he had integrated many of the notes and lines he had written in letters during his many longs stays in Paris beginning in 1902. He had moved there that year to write a monography on sculptor August Rodin. The then 35-year-old poet had already become famous for his polished poetry, but life in the pulsating metropolis upset the sensitive writer from Austria.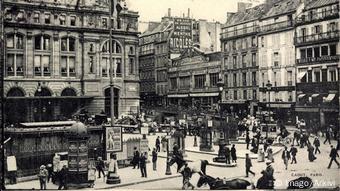 Paris at the turn of the century
In The Notebooks of Malte Laurids Brigge, Rilke reflects on this irritation and the feeling of being overwhelmed.
There is no true plot to the novel, and it's no classic story. Instead, the book is composed of dairy entries, prose poems, and descriptions. It's a maelstrom of associations that reflects precisely the insecurity that Rilke felt and which he projected into the character of his novel. The pace of the storytelling is set by the city itself — the speed of technical progress, the rattling of the urban trams, the honking of the horns, the constant drone of the machines in the factories.
Rilke became a seismograph of this turn of eras. His "book of prose," as Rilke called his own novel, reflected the desire for localization and a sense of self-assurance in a period where everything had been turned on its head. Rilke's Notebooks of Malte Laurids Brigge anticipated the language of Expressionism and is the first novel of big city life of German literature.
Rainer Maria Rilke: The Notebooks of Malte Laurids Brigge, Dalkey Archive Press / Champaign and London (German title: Die Aufzeichnungen des Malte Laurids Brigge, 1910). English translation: William Needham
Rainer Maria Rilke was born in Prague in 1875 and died of leukemia in the Swiss sanatorium Val-Mont near Montreux in 1926. He left behind a substantial amount of poetry, including The Duino Elegies (1923), as well as poetry, non-fictional texts and translations.